I have travelled through Sangster International Airport, or Montego Bay Airport as it is more widely known, more times than I can remember over the last 12 years.
In the process I have learnt some tips and tricks for making the experience that little bit more relaxed and enjoyable.
However there is one thing about Montego Bay Airport that I have been missing out on as I wasn't even aware I could take advantage of it… Club MoBay VIP Airport Lounge!
Flight Departures from Jamaica
When I fly from Montego Bay to London it is roughly a 10 hour flight and it doesn't take off until the evening. So it is a long day, getting up early to get ready then making my way to the airport for the overnight flight.
Needless to say after a nearly 2 hour drive to the airport, I am hungry and hot. So I always check in my bag and head straight to the food outlets before sitting outside to eat and cool off, taking in the last of the fresh air I will get until I land in London.
About 1 hour before the flight is departing I head back into the airport and make my way to the washroom to change my clothes and freshen up. Before heading through security and to the Duty Free and waiting area.
Lastly, I buy a Gleaner (Jamaican) newspaper, snacks and a drink and some last minute souvenirs with the last of my Jamaican currency and head towards the gate to board.
Until now… (hears dramatic dun, dun, dunnnnnnnnnn!)
Club MoBay where EVERYONE is a VIP
Have you ever noticed a sign for something, but never really paid it any attention?
Well, I kept seeing these shiny metal signs for Club MoBay tacked up around Montego Bay airport.
Sometimes they were flanked by uniformed staff holding up placards with passengers name on them, so assuming it was something to do with Business and First Class passengers (which I sadly have never been) I would keep walking past without a second thought.
It wasn't until I was browsing on TripAdvisor that I noticed reviews for Club MoBay, so I stopped to have a read.
It was then I realised that Club MoBay is open to all passengers travelling through Montego Bay Airport, regardless of which 'class' you are flying in.
YAY! So I tracked down the official website to find out more.
What is Club MoBay?
Quite simply put 'Club MoBay' is a VIP Airport Lounge located at Sangster International Airport, Montego Bay. Where patrons pay a fee to enter an all-inclusive area allowing them special privileges, when departing or arriving.
There are three separate areas on offer at Club MoBay VIP Airport Lounge. Which are set up to suit adults, children and business customers.
Plus, there is a Spa area downstairs, where for an extra fee they offer 'mini treatments' while you are waiting to board.
Club MoBay is located in the Sangster International Airport, Montego Bay and its sister VIP lounge is Club Kingston, which is located in the Kingston International Airport.
Benefits of Club MoBay VIP Departure Lounge
Fast-track privileges through immigration and security
Complimentary refreshments including fresh fruits, pastries, snacks, sandwiches, tapas, sushi, sliders and Jamaican patties
Club Mobay Pickney Place; a one-of-a kind sound-controlled children's play-room (Club Mobay Only)
Complimentary alcoholic and non-alcoholic beverages
Complimentary Wi-Fi and a fully equipped Digicel business centre
Dedicated suites reserved for adults-only, family or peace and quiet (Club Mobay Only)
Shower facilities (Club Mobay Only)
Free international phone calls to USA, Canada, and UK landlines
Mango Spa with mini treatments
Club MoBay Decor
The main lounge in Club MoBay is an open plan room decorated with warm grey tiles, dark woods and leather furniture, giving it a contemporary gentleman's club feel.
If you don't include the wall which is covered from floor to ceiling in a Digicel sponsored wallpaper with their ambassadors featured on it!
There is a sit-up bar with bar stools and a selection of comfy armchairs and tables and chairs dotted around the room.
But the main plus point are the huge floor to ceiling windows giving views across the runway and the sea in the background. So you can see all the comings and goings on the airfield.
The washrooms are clean and modern and they were virtually empty most of the time, giving you much more privacy than the main terminal. There is a second washroom on the lower floor where there is a walk-in shower, right at the end of a long hallway festooned with Jamaican artworks and photographs.
The Business Centre, Mango Spa and Children's lounge are also located on the lower floor all of which can be reached by a lift (elevator).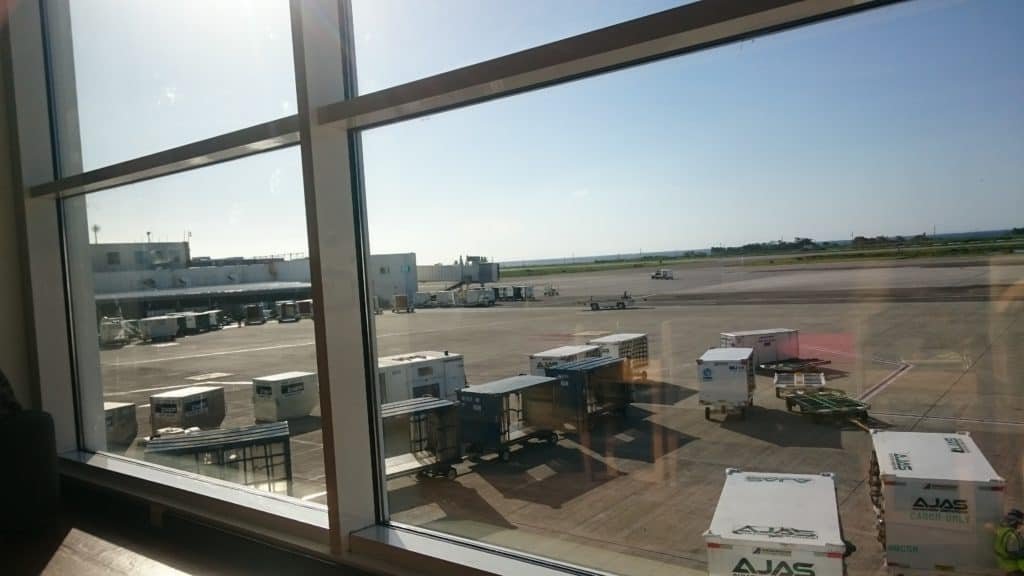 Club MoBay All-inclusive Food and Drink
The self-serve food area was at one end of the main lounge and was compact and well presented.
There were tasty 'bite sized' canape style savoury foods presented in the first chilled cabinet. The chiller was quite tall (and I am 5ft 9″) and if it wasn't for the mirrored internal surfaces and individual labels, it would of been hard to identify what was on the top shelf.
Next on the counter was a Patty warming tower and a soup urn.
Then there were a selection of self-serve hot and cold beverages, including a refreshing watermelon infused water cooler, which was delicious.
A snack basket housed Jamaican Banana Chips and other bagged snacks.
At the far end of the counter was another chiller that had desserts and salads inside.
The Bar area has mixologists who can whip up cocktails, but I opted for a Wray and Nephew and Coke to unwind before the long flight…
Where is the Club MoBay VIP Departure Lounge Located?
To enter the VIP Lounge you must first check in with your airline and approach the security area, where you should be directed to a Fast Track Lane.
Once you are through security screening you will have access to the Duty Free Area in the main airport, so you can pick up some last minute purchases.
The entrance to the Club MoBay VIP Lounge is located near the Departure Gate 9. Just show your pass to the smiling uniformed staff at the front desk to gain access inside.
Club MoBay VIP Airport Lounge – Conclusion
After reading the details of the Departure Package on the Club MoBay website, I think I got to drinks, wraps, sliders and pastries and was thinking this is a good idea… but after seeing there were shower facilities, I was sold and decided to book the Departure Service online.
I had a few problems using the online booking gateway and ended up calling them, where they assisted me over the phone without any fuss.
At US $30.00 for the Departure Service, I thought it seemed good value for money, with all the added extras included within the price.
I normally spend around that in the airport anyway, by the time I have bought food and drink. Plus I could use a washroom with a SHOWER!
Which was total bliss to be able to bathe and change my clothes right before the flight, after being up for 10 hours – with another 12 odd hours of travelling ahead of me.
The staff are very pleasant and they make you feel welcome.
The lounge is super comfortable and relaxing, away from the noise and hustle and bustle of the main terminal.
There are plenty of screens with the departure status of the flights and there are also announcements made over the tannoy, so you don't have to worry about getting too comfortable and missing your flight.
You can leave the VIP Lounge at any time to check out the main terminal with the duty free shops and the smoking lounge, and then come back into the VIP lounge until your flight is ready to board.
All and all, I recommend the Club MoBay Departure Service.
Cost of Club MoBay Departure and Arrival Service
*Rates updated 6th February 2019*
Club Mobay VIP Meet and Greet Arrival Service:
$50 per adult, $25 per child (2-12 years old)
Club Mobay Departure Service:
$30 per adult, $20 per child (2-12 years old)
If you are considering booking you can also benefit from a 'Bundle', which covers both arrival and departure services.
Mobay Bundle Service:
$80 per adult, $40 per child (2-12 years old)
Club Kingston
Club Kingston VIP Meet and Greet Arrival Service:
$35 per adult, $20 per child (2-12 years old)
Club Kingston Departure Service:
$25 per adult, $20 per child (2-12 years old)

Club Kingston Bundle Service:
$60 per adult, $35 per child (2-12 years old)
VIP Attractions Contact Details

Get More From Sweet Jamaica
Want to get updates on the move then follow us:
Keep the Conversation Going….
Have you been to Club MoBay or Club Kingston?
Share your experience and join the Comments Below….