(updated July 2022)
Little Dunn's River in Ocho Rios, Saint Ann, is a smaller more rootsy alternative to the tourist masses ascending hand-in-hand, up the waterfalls of its more famous sister, Dunn's River Falls. Whilst it's not as magnificent as its bigger sister, it's still worth a mid-week visit for a few hours if you want to cool off and experience a 'local' chill spot.
With free access to the public, Little Dunn's River is more relaxed and uncommercialized, than the 'paid for' beach experiences in Ocho Rios. So expect a chill spot to marvel at the beauty of nature, where you can enjoy a dip in the ocean and have an invigorating massage under the falls, not a 'high-end luxury experience'.
The Falls at Little Dunn's River consists of one large fall, where you can (very carefully) ascend the rocks for a short distance if you are daring, or traverse the shorter route downwards into the sea. It is very slippery on the rocks and heading down towards the sea there are some deep spots, so take your time if you choose to navigate this way!
There are also some smaller falls over to the side, which spill over the top of the rock face, you can get an invigorating massage if you are brave enough to face the cold river water pounding on your head and shoulders!
The actual 'beach' at Little Dunn's River is a very small, sandy slither with a couple of bent-over trees to sit on. So leave the whole beach caboodle at home, as there won't be room to spread out on the sand!
TIP! You can rent Sun Loungers for around JA$500 (if you haggle) to keep your belongings out of the water and 'claim' your piece of the shoreline… And they easily hold three people, if you don't lay down!
Swimming and Falls at Little Dunn's River
The sea floor is shallow and (usually) calm for a good distance, which is nice for non-swimmers and the young to have a paddle without worrying about a dangerous drop-off. Towards the falls, the water is cooler and there are a couple of lines with floats to direct swimmers away from the rocky areas underfoot. If you want to swim and go deeper, you can go beyond the bowed-over tree away from the falls, where the sea is warmer and it's sandy underfoot.
The whole of Little Dunn's River was very clean and I noticed the beach vendors regularly sweep the debris off the sand. I arrived around 3.00 pm and there were plenty of people around, after about an hour the crowds thinned and we could get a chance to go under the falls. I spent a few hours here to relax and unwind and really enjoyed myself.
I would recommend bringing beach/sea shoes as it helps to keep your feet and toes protected from the rocks and from slipping on the falls.
How Do I Enter Little Dunn's River?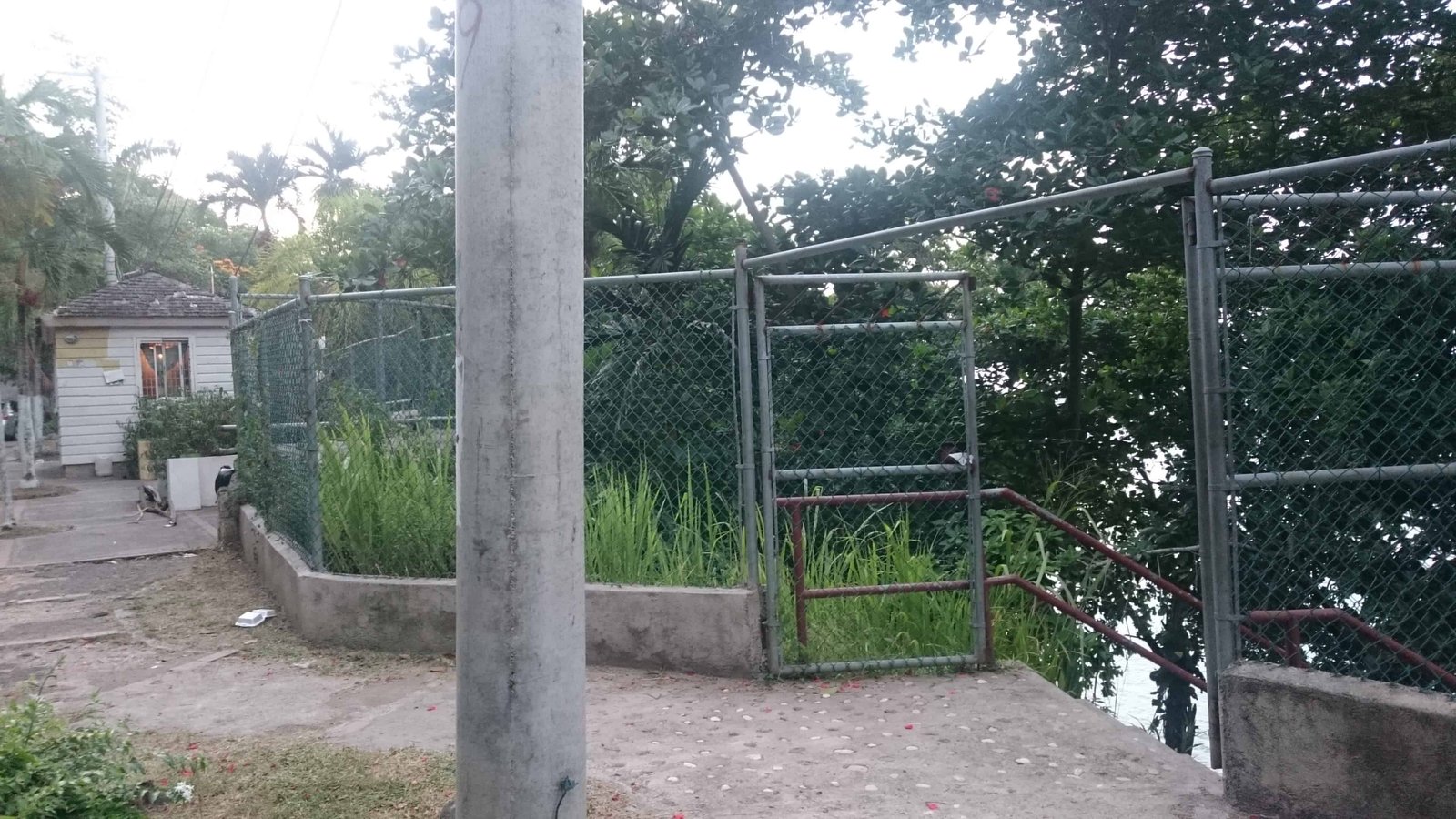 Little Dunn's River is accessed from one of two inconspicuous gateways on the paved roadside walkway, known locally as The One Love Trail, to the side of the busy A3 Main Road.
The first of which has a double door gateway, and the second further along the trail has a single gateway, which is usually manned.
Once you enter through either of the gateways you go down some concrete steps to a platform area, where there are usually a few vendors selling ice-cold drinks, snacks, and other necessities.
From here you can either go to the right where there are rocks lining the shoreline with trees shading the water's edge. Or go to the left where you have a choice of climbing a steep incline with tiny foot holds to reach the falls, or walk down towards the water, where you will find a tiny strip of sand where the falls spill out into the sea.
The descent to reach the falls is an adventure in itself and if you're not sure-footed and reasonably fit it may not be the place for you. If you want to navigate the trail with ease, wear some shoes with a bit of grip on the bottom, or just wear your sea shoes!
Is Little Dunn's River Free?
You will normally see a couple of men 'manning' the single gate and they will probably ask for a donation to enter. Although it is officially free to enter Little Dunn's River, use your discretion when being asked for a donation.
In some spots, they will also act as a guide, showing you which way to go, pointing out and describing all the things of interest, patiently answering millions of questions, and generally imparting their knowledge, love, and pride about where they 'work' and about Jamaica overall.
TIP! Many of Jamaica's uncommercialized natural beauty spots have unofficial caretakers, custodians, and guides. These persons are locals who maintain the site but are not employed by anyone per se. They chose to keep these areas of outstanding beauty, clean, safe, and accessible to all.
So don't turn your nose up, contribute a little!
Does Little Dunn's River Get Busy?
The lack of tourists at Little Dunn's River is made up for by the number of locals that frequent this tiny strip of sand and falls, especially at weekends and on Jamaican national holidays. If you want the place in semi-seclusion I would recommend coming between Monday and Friday, avoiding any midweek days that the holidays fall on.
Are There Washrooms At Little Dunn's River?
The facilities are limited and the washrooms / changing rooms are right at the top by the roadside (although I never checked they were open).
Should I Buy Or Bring Food and Drink To Little Dunn's River?
Little Dunn's River has some vendors selling drinks and snacks and there is a cook shop that is perched on the edge of the falls that is sometimes open. So you're good if you want a cold beer, Wray & Nephew Rum, soft drinks, or water and but I'd recommend bringing your own food if you want something to eat.
Directions To Little Dunn's River
ADDRESS: Little Dunn's River, Belmont Property, A3 Main Road, Ocho Rios, Saint Ann
WALKING: If you like walking try The One Love Trail, a roadside walkway that carries you from Reynolds Pier at the edge of Ocho Rios town center, along a scenic ocean side path (needs resurfacing in areas) all the way to Dolphin Cove and Dunn's River. The entrance to Little Dunn's River is just over a mile from the start of the trail and is before Dolphin Cove and the turn-off up to Dunn's River. You can easily hail a route taxi by the side of the road for around JA$200 if you don't fancy the walk back into town again!
TAXI: From Ocho Rios, you will need to get a taxi going in the direction of Saint Ann's Bay. It won't cost you any more that JA$200 if you use a route taxi from the Ocho Rios Bus Park, or stand on the side of the road in the direction of the falls and flag down a taxi. Tell the driver you are going to Little Dunn's River and they will let you off near the entrance. A private Taxi will cost considerably more!
If you are driving from the direction of Saint Ann's Bay and beyond, head along the A3 highway towards Ocho Rios. You will pass Dunn's River Falls on your right, Dolphin Cove on your left, and Rainforest Bobsled Jamaica at Mystic Ridge on your right-hand side… look out just around the next corner you will see the layby. Park your vehicle!
DRIVING: If you are driving from Ocho Rios, take the A3 Main Road out-of-town towards Saint Ann's Bay. As you leave the town you will drive past Reynolds (Cargo and Cruise Ship) Pier on your right-hand side. Keep following the road for just over a mile. Look out for a layby on the RIGHT-hand side, where there is a couple of small single-story white buildings. Pull over and park in the bay on the right-hand side of the road. Do not park on the opposite side of the road on the soft shoulder.  If you get to Rainforest Bobsled Jamaica at Mystic Ridge you have gone too far, so go ahead and carefully turn round!