Booking a Flight to Jamaica
If you are planning on booking a flight to Jamaica, you will most likely be flying into one of the two major airports on the island.
Sangster International Airport in Montego Bay, St, James, on the north coast and Norman Manley International Airport, in Kingston, St Catherine, on the south coast.
There are also lesser used airports in operation in Jamaica, where you can board smaller charter and private aircraft to island hop and avoid driving.
These include, Ian Fleming International Airport, in Boscobel, Saint Mary, Negril Aerodrome, in Westmoreland, and Lionel Densham Aerodrome, in Treasure Beach, Saint Elizabeth, among others.
Read More: A Guide to Sangster International Airport, Montego Bay.
Club MoBay VIP Airport Lounge
If you want to beat the crowds and not have to walk all through the airport on arrival at Montego Bay, or Kingston, you can opt for the VIP treatment.
Club MoBay is offered to passengers on arrival and departure into Sangster International Airport, Jamaica. Whilst Club Kingston is offered at Norman Manley International Airport.
I won't go into too much detail about Club MoBay here, as I have written a full review of my experience in another post. But, I will tell you it was a good experience and that I got more than I bargained for! Read More…
Finding Flight Deals to Jamaica
If you are looking for flight deals to Jamaica, first check the price directly with the airline (website) that flies the route from your home country.
But, DO NOT automatically book your flight, as sometimes there are deals to be found elsewhere for little hassle.
Once I have found the 'base' price from the airline, I telephone up to four local travel agents serving the route to Jamaica and compare the prices before choosing the best deal.
Okay, this might be considered 'old school'. But, it's really fast and convenient. You get a price and viable travel dates on the spot, without all the searching around on the Internet.
It might sound obvious, but make sure you tell the travel agent of your preference for which airport you wish to depart from and fly into. As it is easy to book the wrong airport in all the excitement!
For good flight only deals to Jamaica I recommend these travel agents, all of which now have websites too (London, UK based travel agents):
If you prefer to book online, there are numerous flight deal and price comparison websites to while away the hours looking through.
But, to be honest I cannot be bothered with the hassle… as I only seem to be able to find a good deal if I have a gazillion stop-overs, or travel to Jamaica for a weird amount time, like 6 days!
If anyone has any recommendations, or success on these types of websites, I would love to hear about it in the comments!
Airlines flying to Jamaica from the UK
Long gone are the days when you had a choice of long haul airlines to choose from and were allowed 2 bags in the hold, as was standard when travelling direct from London to Jamaica.
Nowadays Virgin Atlantic is the ONLY provider operating the direct route to Montego Bay Airport (as of summer 2012) from the UK, with a one bag policy.
British Airways on the other-hand now presently ONLY fly directly into Kingston.
The wonderful Jamaican airline, Air Jamaica unfortunately gave up the route from the UK to Jamaica, in 2007; but I managed to enjoy one round trip with them!
Charter Flights are offered by a few operators such as First Choice and TUI (Thomson's), but I have always flown direct and long haul for a few reasons… keep reading!
Long Haul Airlines Flying to Jamaica from the UK
Virgin Atlantic Luggage Allowance
Since 2012 there have been some radical changes to the luggage allowance given to passengers flying the route from London Gatwick to Montego Bay, Jamaica.
Initially Virgin Airways allowed economy passengers on flights to Montego Bay to carry two pieces of luggage in the hold, weighing up to 23kg (50lbs) each; plus hand luggage.
Then the luggage allowance was unceremoniously halved to one piece of luggage weighing up to 23kg (50lbs), with additional pieces charged at £35.00 each.
Subsequent years have now seen the charges rise to the heady heights of £65.00 for one additional piece and £140.00 if you want to bring a third piece of luggage; as of February 2019!
When I was looking on the Virgin Atlantic website in the summer of 2018, I was amazed at the price of the flights… that is until I clicked on the date to get the full details.
The reason the flight was so cheap was because it was an 'Economy Light' ticket and only included hand luggage and didn't include any luggage for the hold at all!
If you choose an 'Economy Classic', or 'Economy Delight' ticket, you were allocated one piece of luggage for the hold at 23kg (50lb). But the prices were a minimum of £65.00 more expensive than the 'Economy Light' tickets.
Premium Economy allowance is two pieces of luggage in the hold, whilst in Upper Class you may bring three pieces of luggage, darling (I wish!). This is plus the on-board / carry on allowance mentioned.
Top Tip! If you plan to travel to Jamaica on a regular basis, it is a good idea to join a frequent fliers club. With the limited choice of carriers to pick from you will be giving the same airline a lot of custom and could be collecting air-miles towards free flights, upgrades and other benefits.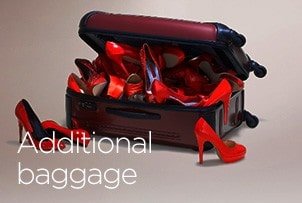 Charter Flights to Jamaica from the UK
The luggage allowance on a charter flight is generally around 20 kg, which means 15 kg in the hold and 5 kg hand luggage. This is not enough for me as I always fly down for at least 6 months and I have a lot of stuff to bring with me!
Plus, some charter flights companies to Jamaica tend to only offer flights in the high season and school holidays, which does not suit my needs for year-round travel.
Additionally, I find that the price for flight only deals is in the same region as long-haul flights, but with none of the perks….
However, if you are looking for a holiday / vacation to Jamaica, definitely check out these companies as they have some great deals. I have just seen a 7 night stay in an all-inclusive in Ocho Rios for just over £800.00, including flights and transfers on First Choice! This is the average price I pay for a return flight with Virgin Atlantic, with no hotel, no transfers, nothing!
Charter Airlines Flying from the UK to Jamaica
Flying to Jamaica with a Wedding Dress
If you are getting married in Jamaica, congratulations!
One thing that is sure to be on the mind of the bride, is getting her wedding dress safely to the destination. Carry your wedding dress in it's bag, smile sweetly and ask politely at the check-in desk if you can carry it on-board, rather than it going in the hold.
I have heard of some women recommending looking for hostesses with engagement or wedding rings on as they may be more sympathetic to your dilemma!
Either way it will depend on the room in the lockers made available on-board for the coats of the crew and premium seat holders. You have more chance of getting the wedding dress into a locker in the summer months, as naturally fewer people wear bulky coats on the flight to Jamaica.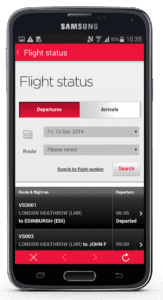 Airlines and Airports with Direct Flights to Montego Bay Jamaica
This list gives some examples of airlines operating direct flights to Montego Bay, Jamaica and the airports they depart from:
Los Angeles
Charlotte
Miami
Philadelphia
Chicago
Boston
Dallas
Atlanta
Detroit
New York
Boston
Minneapolis
DK
DY
New York
Orlando
Fort Lauderdale
Boston
Montreal
Saulte Ste Marie
Toronto
Montreal
Ottawa
Winnipeg
Toronto
XP
Further Information About Travelling to Jamaica
We have plenty of guides about Travelling to Jamaica, and Transportation in Jamaica.
Check out our other posts to read the whole series on Transportation in Jamaica and Travelling to Jamaica.
A Guide to Sangster International Airport Montego Bay
Club MoBay VIP Airport Lounge Review
Travelling to Jamaica as a Solo Female ~ Guest Post
30 Tips on Driving in Jamaica as a Foreigner!
How to Rent a Vehicle in Jamaica

Need Assistance with Airport Transfers or Trips in Jamaica?
Our sister company 'Live In Jamaica', offers assistance to returning residents, expats and anyone else that wants to enjoy Jamaica.
Want to explore the open road in Jamaica, but still not convinced about driving yourself?
We will arrange a reliable driver for you. Whether that be for airport transfers, collecting items from the wharf, the odd day trip, or for the duration of your vacation!
Contact 'Live in Jamaica' today! – Assistance with moving, living, shipping, construction, relocations, project management and more!

Get More From Sweet Jamaica
Want updates on the move? Follow us!
Keep the Conversation Going….
Have you flown to Jamaica, which airline did you use?
Share your experience? Join the Comments Below….