If you are in the vicinity of Treasure Beach you need to find your way to Smurfs Café & Sports Bar. A Treasure Beach institution, this unassuming 'Café' has a roomy shaded seating area at the back and the host Miss Dawn serves the BEST BREAKFAST EVER!
Once we had decided to go to Treasure Beach for our mini-break, I did a little research into the local area on the Internet. We knew that we wanted to get out and about to explore Saint Elizabeth and therefore we needed some places to visit and places to eat! Smurfs Café was on my radar as it had brilliant online reviews…
Arriving at Smurfs Café – Too late…
After our first lazy morning lounging and chatting on our little private garden patio at Jake's Hotel, we decided to hit the road and get something to eat and do some exploring.
We were feeling kinda hungry as it was more like lunchtime by the time we were ready to leave. So we decided to go to Smurfs Café as it was nearby and had great feedback from customers.
A few of the online reviews mentioned that Smurfs Café was an 'all day breakfast place', but much to our disappointment we discovered that it wasn't!
We arrived with our hungry bellies and high expectations at around 2.30pm and although the Café was still open, it wasn't serving food and the owner Miss Dawn explained that she had already packed everything away and was only there as she was prepping food for the next day.
We got back in the car feeling hungry and deflated, but determined that we would make it back there before the trip was over.
Then and there we agreed that we would go back to Smurfs Café after we checked out on the last day to get a good refueling before the long drive back to the north coast.
Finally Eating Breakfast at Smurfs Café!
After missing out on eating at Smurfs Café on the previous visit, we called the Café before we headed out to check it was still serving food.
We got through to Miss Dawn who said she was closing soon and if we were coming did we want her to cook a fresh batch of fried dumplings because she had sold out.
We replied 'YES please! We will be there in 10 minutes!'
We hurriedly jumped into the car and followed the Google Maps App, for the short drive to Smurfs Café arriving around 12.15pm.
When we arrived the place was empty apart from a local couple eating food in the shaded area at the back of the Café. We walked through the eating area and found Miss Dawn inside the kitchen.
With relief that we had made in time we ordered two portions of Ackee and Saltfish with Fried Dumplings, which were JA$550 each (most breakfasts are the same price).
There didn't seem to be any cold sodas available in the Café, so we bought them from the Sports Bar at the front of the building and sat down in the shaded eating area to await the arrival of our food.
Breakfast Menu at Smurfs Cafe
There is a huge breakfast menu at Smurfs Café. Which offers traditional Jamaican dishes, alongside International favourites.
Ackee and Saltfish
Callaloo and Saltfish
Mackerel Run Down
Saltfish Fritters
Porridge
Omelette
Home-made hash browns
Eggs
Sausage
Bacon
Pancakes
Toast
Freshly squeezed Orange Juice
Smoothies
Home ground freshly brewed Coffee
Ackee and Saltfish – The National Dish of Jamaica
After around 20 minutes Miss Dawn gestured that the food was ready. So we collected our boxes from her and excitedly sat down to reveal the meal inside! OMGOSH! What a sight to behold!
Check out that box of delicious crispy on the outside and soft on the inside Fried Dumplings, the National Dish of Jamaica 'Ackee and Saltfish' in all its glory and the little bit of brawta (extra helpings) that everyone loves on the side, Fried Plantains and a slice of Pear (Avocado)!
It tasted as good as it looks…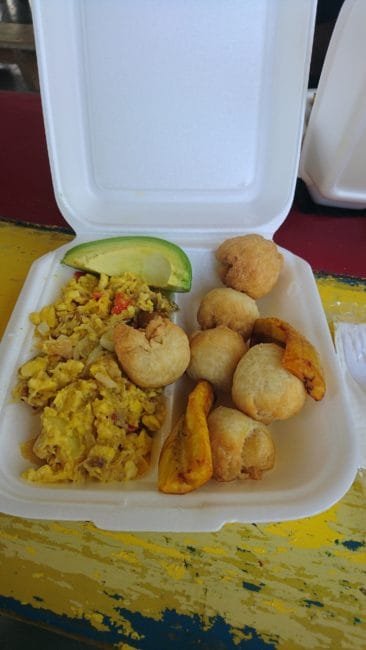 Introducing Miss Dawn – Smurf's Café
After a short while Miss Dawn appeared with a big bowl of peas and sat down on one of the benches to start shelling, chatting and laughing with a couple of other people who were there.
Miss Dawn is the owner and resident chef extraordinaire at Smurf's Café. A beautiful spirit with a unforgetable smile, Miss Dawn has a warm and friendly aura that I was instantly drawn to.
The proof was in the pudding that she is a special woman when we were getting ready to leave out…
Once we had filled our bellies we carefully closed up our half full boxes of food to take with us and thanked Miss Dawn for the delicious food.
Feeling happy and refueled for the journey, we made our way to the car for the long drive back to Ocho Rios. However, the rental car was playing up again and wouldn't start… We soon realised we had another unexpected flat battery!
We sat there for several minutes fiddling around with the ignition, before opening the bonnet (hood) to check the engine and knock the battery connectors and so on.
Miss Dawn who was still sitting outside was watching with interest and after seeing we were having no luck, suggested that we try a mechanic who was down the street to see if we could get a jump-start.
After checking out the local mechanic and flagging down a couple of passing cars, we still had no jump leads (jump cables) and were running out of ideas.
Meanwhile whilst we were flapping about, Miss Dawn had called her son to ask him to pass by the Café and come to our aid.
The next thing we knew a pick-up truck pulled up and out piled her son and couple of others who gave us a jump-start and got us back on the road in no time.
We again whole-heartedly thanked Miss Dawn and her son and gingerly drove off for the journey home vowing to come back the next time we were in Treasure Beach!
How to Find Smurf's Café
You can't really miss Smurf's Café & Sports Bar as it's painted (unsurprisingly) in a bright blue colour with Smurfs painted on the walls!
Located on Ocean Hill View Drive, at the junction with Lewis Town Road. The building houses the Sports Bar at the front and Smurfs Café at the back.
The entrance to Smurfs Café (where you order your food) is reached by walking around the back of the building.
Look out for the Smurfette painted on the side wall and walk through the outside eating area. You will see the doorway between the two Jamaican flags that are painted on the building.
Smurfs Café has a facebook page – If You Want to Give Miss Dawn a Shout Out!

Get More From Sweet Jamaica
Want to get updates on the move then follow us…
Keep the Conversation Going….
Have you ever been to Smurfs Café & Sports Bar in Treasure Beach, Saint Elizabeth?
What did you think of the experience?
Share your experience and join the Comments Below….
Want to Read more about the Parish of Saint Elizabeth? Head Over Here…
Want to try your hand at making a traditional Jamaican Breakfast? Head Over Here…