After falling in love with Janz Creations images on Instagram, I tracked down the brains behind the brand to get the inside scoop about Jamaica's most talked about travel accessories. Where I was excited to learn that Janz Creations is a thoroughly modern, Jamaican family affair.
Join me as I catch up with the trailblazing trio to find out what they are up to this year, plus I have gleaned some of their 'in the know' insider tips for the best that Jamaica has to offer.
Flying the Flag for Jamaican Made Products
Janz Creations is one of the new breed of fearless Jamaican creative companies that has been launched to much acclaim. Filling a niche in the market with a product line that wouldn't look out of place on the pages of a glossy magazine. Janz Creations are putting the stylish edge into 'Jamaican Made' with their line of Travel and Tea Accessories.
Following a hectic couple of months being featured at the most stylish events on the Kingston shopping scene on the run up to Christmas, Janz Designs have hit the ground running in 2017, with new fabric designs being launched, along with a limited edition romantic Valentines Day campaign.
Coveted by all the most stylish people in Jamaica, those in the know are stocking up on pieces from Janz Creations to carry back overseas, smug in the knowledge that they have brought back something from their vacation that everyone else wishes they thought of.
If you are visiting Jamaica and are looking for an authentic memento that you will still love and use when you reach back home, seek out  a stockist of Janz Creations. You heard it here first…
More Information: Support Jamaica Buy Jamaican!
In the Beginning – A Kingston Born Entrepreneur
No stranger to business, Janet Ferguson had designed and created products long before Janz Creations was formally launched. As Janet's artistic background and passion for practical designs meant that every time she created something for herself, her friends and family would insist that she made another to sell to them. This support and encouragement spurned Janet on to team up with her daughters, Kerri-Ann and Keisha to launch their family owned business in September 2015…
"I was motivated to make products that are useful and necessary, but often forgotten or unavailable. High end shoes come in bags, but the majority of people cannot afford such shoes, but the bags are so useful for travel and everyday use. Who wants to have their underwear on display when their bags are being checked at customs? The lingerie bags provide privacy for these personal items."
Priding themselves on creating high quality tea and travel collection products, their company philosophy is to provide 'products that are useful and which offer good value for the price charged'. This vision is effortlessly executed with the beautifully shot marketing images shot by, Toni-Ann Photography.
Hand-Made Products Hitting the Fabric Trends
Scouring through the images on Janz Creations Instagram feed, there is no denying that Janz Creations is on the pulse of the latest colour and fabric trends. Taking inspiration from nature, culture and magazines, the Team selects fabrics and prints based on current trends in the fashion industry.
These fabrics are then hand-cut and meticulously sewn by Janz Creations Founder, Janet Ferguson, assisted by a local seamstress in her atelier. The choice of fabrics cover the full spectrum, so you can find modern heritage floral patterns, colour blocking, polka dots, denim, prints and stripes. There is literally something for everyone, including men and children.
The pieces are priced in the range of $600 – $4,500 JMD, which is super affordable if you want to start collecting their range.
I will be stocking up on the products with the the iKat, batik, geometric and blue anchor fabrics, which I absolutely LOVE!
Why it is a Good Idea to Invest in Travel Accessories
Whether you are zipping around town or visiting an overseas destination, travelling can be stressful. One of the best ways to make travelling less stressful is to be organised. It's the little things that help, like having a place for everything and putting everything back in its place. By investing in some travel accessories you can make sure that you stay on top of your game, whilst dazzling everyone you meet with your practical and stylish hero products.
Purposefully designed travel accessories can also help protect the lining of your favorite bag, whilst fun prints make things easier to find when scrabbling in the depths of your handbag for something small. And who doesn't want a pretty little teabag wallet to toss into their handbag for Green Tea on the go?
Janz Creations Product Line
Janz Creations currently carry two products lines, Travel and Tea Collections.
Travel Collection:
Card Holders
Cell Phone Charging Pockets
Diaper Bags
eReader Cases
Laundry Bags
Lingerie Bags
Luggage Handle Covers
Passport Holders
Shoe Bags
Swimsuit (wet) Bags
Children's wet bags and lunch bags
Tea Collection: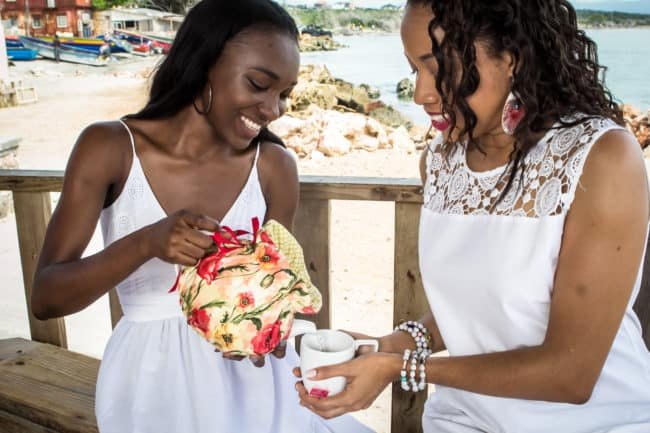 What's next from Janz Designs…
You heard it here first!
"In the next 3 -5 years we would have added more products to our collection and a few more vendors, some of whom would be in other Caribbean islands. We continue to listen to our customers as we have gotten very good product ideas from them. We will also be exploring the bridal market through partners, where we will offer our products as customizable bridal party gifts".
Janz Creations Insider Guide to Jamaica
If you are looking to visit Jamaica like a local, there is more than one way of doing it. So in the interest of public service I have quizzed the stylish trio for their insider knowledge on 'how to do Jamaica like a Kingstonian PRO'!
Janet Ferguson raised her daughters in her childhood stomping ground of St. Andrew, where they all have fond memories of the area…
"We all grew up in St. Andrew. Our favourite memories were playing with friends in the stream at the front of our house and mini adventures into the hills. Road trips to the rural areas, picnics at Hollywell and attending Easter morning performances by NDTC (National Dance Theatre Company) are some of our family faves".
Janz Creations on Why Jamaica is an Ideal Vacation Destination
"Jamaica would appeal to a visitor that is looking for a change in pace, with friendly and welcoming people, fantastic food, beaches, rich history and vibrant art scape. Many people would be enlightened by a visit to the Synagogue which is one of the oldest in this hemisphere".
What Janz Creations love about Living in Jamaica
"We love the lifestyle, weather and overall energy of the country, having all lived at some time in the United States and the Jamaican example of 'Out or Many, One People'"
Places Fixed on Janz Creations Jamaican Speed Dial
Retail Shops: Kerry Man Woman Home, Kutriments, Tea Pot, Taylor'd 4 Babies, Courtney Washington
Restaurants: Triple Tz on Annette Crescent has the best Sunday Morning breakfast.
Hang Outs: There are so many, but San San beach in Portland is a must. Can't forget Devon House Ice Cream…ooh that rum and raisin.
Janz Creations Favourite Island Hide-aways for a Weekend in Jamaica
"We love to stay in Ocho Rios (Old Forte Bay). Ochi is now very close with the new high way and we loved the staff at Old Forte Bay. It is very relaxing and great spot for a small group or family get away.
We also enjoy Ibero Star in Montego Bay. This has been one of the best hotels we have stayed at, from the staff to the food and accommodations".
Janz Creations Highlights about Living in Jamaica
"Living in Jamaica is truly a wonderful experience. Nothing beats living in a warm climate on an island year round. When we have free time we enjoy trips to Hellshire Beach to eat fish and festival, the taste cannot be replicated anywhere else we have visited so it is a must go for all visitors. Also the simple things: the ability to laugh at ourselves, relax and the congeniality of our people. With all its problems there is no place like Jamaica".
Janz Creations Top 5 Spots to Visit in Jamaica
1. Devon House – ice cream
2. Hellshire Beach
3. Triple Tz
4. San San Beach
5. Tastee Patties
Janz Creations Favourite Authenic Jamaican Foods and Pastimes
Jamaican Food: "Ackee & Saltfish, Patties, Fried dumplings, Escoviche Fish and Festival"
Jamaican Pastimes: "Carnival, Track Meets, NDTC Performances, Live Concerts, especially Sumfest & Rebel Salute"
Shop Janz Creations
Janz Creations website offers delivery within Kingston & St. Andrew. Wholesale items can be personalised.
Retail Locations Carrying Janz Designs
Kerry Man Woman Home
18 South Avenue
Kingston, Jamaica
Kutriments
Shop #18
Mall Plaza
Kingston, Jamaica
Taylor'd 4 Babies
27 Lady Musgrave Rd
Unit 3
Kingston, Jamaica
The Teapot
106 Hope Rd.
Sovereign Centre
Shop 27a
Kingston, Jamaica
Island Florals
Devon House
Shop #25
26 Hope Road
Kingston 10, Jamaica
Contact Janz Creations
Janz Creations Website: www.janzcreations.com
Email: janzcreation@gmail.com
Instagram: Janz_Creation
FaceBook:  Janz Creations
Disclaimer: All images used with kind permission of Janz Creations, copyright Janz Creations.
Photography Credit: Toni-Ann Photography.
Get More From Sweet Jamaica – Join Us Here…
Want to get updates on the move then join us…
Looking forward to hearing from you.
Bless up, Jules
Keep the Conversation Going….
What is your favourite piece from the Janz Creations Travel and Tea Collections?
Share your experience and join the Comments Below….
Want to Read more Jamaican Interviews? Head Over Here…
Want to learn more about my Support Jamaica Buy Jamaican! Campaign? Head over here…