Pretty Little Tings Interview
Stacks of Jamaican Pretty Little Tings
You may recall from my recent feature on 'Anya Goes to Jamaica', that there was a beautiful collectable bracelet and anklet made by 'Pretty Little Tings', that went with the book.
The jewellery was specially commissioned by the author from a Jamaican creative, so that the 'souvenir' was authentic and supported a small business in the country that the book was written about.
I thought this was such a brilliant idea and another reason I just love the concept of the Anya World Traveller Series. It demonstrates a simple way that we can go about supporting each other in our business endeavours, by collaborating with other small businesses.
I have to admit I couldn't resist looking up 'Pretty Little Tings' to see the rest of the range that Tena, the designer behind the brand has on offer.
But now I have a problem… Tena has soooo many designs that are drop dead gorgeous, I would be clad from wrist to shoulder and ankle to hip in them if I wore them all at once!
The rest of the collection goes far beyond the designs used for the children's book commission.
There are some really unique and beautiful pieces that can be infused with aromatherapy oils. A selection with metallic patterned vegan friendly leather and a large part of the collection is unisex, so the men can get in on the action too.
I caught up with the multi-talented Tena, whose line of products she designs and hand makes herself, to learn more about how she is going from strength to strength with her jewellery line that is so beautiful it is hard to choose just one.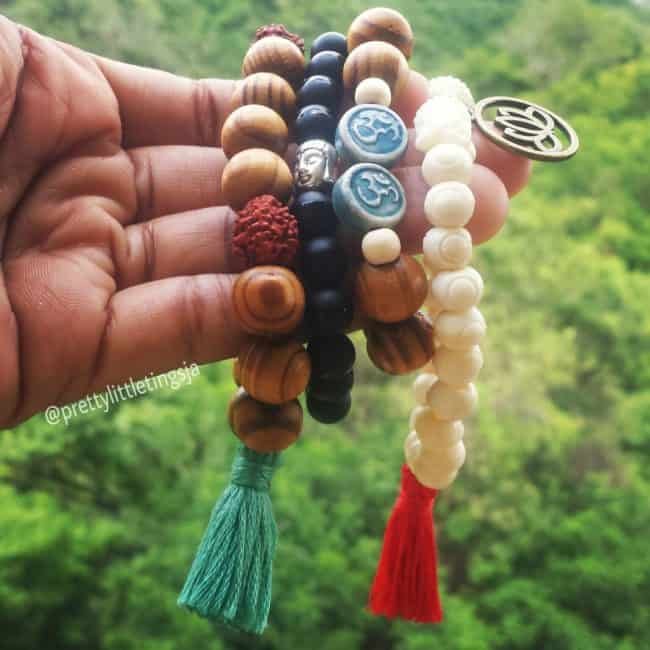 Please Introduce Yourself
My name is Tena Harrison. I recently turned 25 years old and I'm a chef by profession.
I am currently living in the United States, temporarily for work purposes, but I'm originally from the Kingston 13 area.
I attended Holy Childhood High School for Girls and University of Technology, where I studied Hospitality and Tourism with a major in Culinary Arts.
I have three older sisters on my mom's side, three nieces and two nephews.
When and Why did you launch Pretty Little Tings JA
I started Pretty Little Tings Ja (PLT) in November 2015 after graduating from UTECH.
I was unable to find a job after months of sending out resumes and sitting at home doing nothing.
PLT should have started off from 2011, but you know what they say nothing happens before its time.
It started out of my love of beads, bracelets and working with my hands. Nothing makes me happier than something I created myself.
I used to make them for myself and would get asked about them, so one day while sitting at home a friend of mine asked why don't I start making bracelets and selling them online.
So we put our heads together that day and came up with the name, created the Instagram page, I ordered beads and the rest is history.
My relaunch took place because I relocated to the U.S. because of a recent job opportunity, so I'll be working and living here for a year. I had to put PLT on hold in order to get myself sorted.
The business is getting better with time as I'm constantly learning about what my clients and potential clients like and I do a lot of research on the materials that I use for each of my pieces.
Like my tagline says, Made with a Purpose. I want to give the wearer something they can put on and know that it holds a significant meaning and most of the pieces that I make are made with stones or charms that have healing properties and acts as a reminder.
For example Tiger's eye stone has long been used to aid in protection and strength.
PLT is still young but I definitely see it getting better with time.
The jewellery making community is very large, but I think you can still stand out once you know what you're doing.
Although I am a chef by profession, I dabble in a little bit of everything. Making jewellery is not just my hobby turned business, but a passion of mine.
I noticed your Motto is 'Made with a Purpose, Made to Inspire' Tell us About That
As mentioned above my motto means that no matter what I make, there is a meaning behind it based on the materials that I use.
For example, Onyx for protection, wooden beads to bring the wearer closer to nature, vinyl beads for the purpose of recycling, rudraksha seeds for enlightenment, Amazonite the stone of hope and courage, Hematite stone, for the mind.
The lists goes on, but a lot of thought goes in each piece I make.
As a person who can be very forgetful at times I make pieces for myself and for others that will be a reminder to us.
So we wear our intentions, affirmations and goals as a constant reminder so that we can become a better version of ourselves. It's kind of like self-help if you wish to put it like that.
I do research because I want to make sure that I know what I'm talking about and through research I come up with even more ideas and concepts that I can apply to PLT. In addition to that I can make better decisions."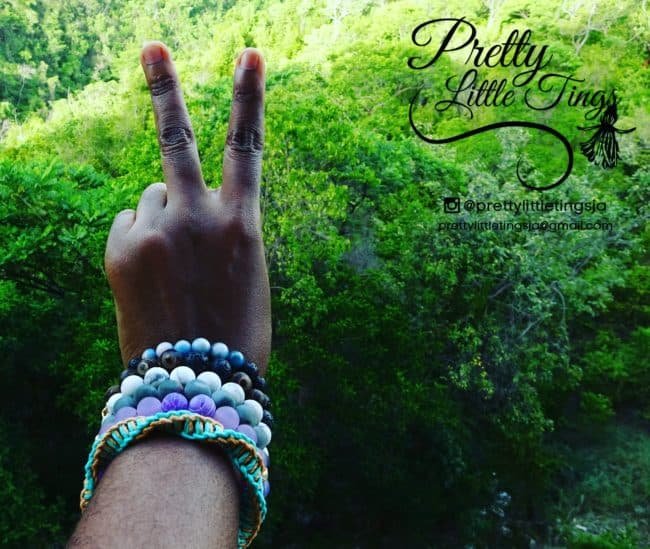 What Motivated you to become an Entrepreneur
Just before I started PLT I had just graduated from UTECH, so I was a student.
What drove me to become an entrepreneur was the realisation that nothing will be handed to me, I had to work for what I want.
I learnt that very early as I grew up in the garrison and coming from a lower middle class family, that was my daily reality.
I always knew I wanted to be my own boss as the benefits of being one out weighed that of an employee.
Have you had any Formal Training
I have no formal training in jewelry making.
Everything is self taught through trial and error, watching videos, deconstructing store bought jewellery to see how they were made, online research and a lot of reading.
I studied some business subjects in high school and business studies was apart of the course at UTECH, so I have knowledge of the business aspect of PLT which I'm very grateful for.
What Inspired you to use your Hands Creatively
I've always loved working with my hands. I'm drawn to things of that nature which is why I chose my career of becoming a chef.
I was always creative and that can be credited to my upbringing. As we Jamaicans say, 'we tun wi han and mek fashion'.
Meaning if you didn't have what you needed, you have to find creative ways to make it happen so I always did that and it stuck with me throughout the years.
Like food, I was drawn to jewellery making because it involved my hands and being creative. It's like art and I love that.
I love to draw, I can do hair, I love carving & fashion designing.
Describe your Product Range
My products fall under the categories of bracelets, anklets and recently rings and necklaces.
My customers are mainly persons on a spiritual journey and lovers of gemstones and crystals like myself.
What is unique about my product range is that they are unisex, they appeal to a large age group and there is something for everyone and if I don't have it I can make it. Custom work is always welcomed.
The most memorable person who has bought from me is Nikko FungChung, who recently released her book Anya Goes to Jamaica.
She purchased anklets and bracelets from me as souvenirs for her young readers. In the book Anya goes to Jamaica and on her travels takes back souvenirs as reminders of her travels and Nikko brought that to life with my bracelets and anklets.
I was blown out of the water because she chose me and my business out of the pool of Jamaican handmade businesses. I am humbled and greatly appreciative for the opportunity I was given.
Learn More: Nikko FungChung – Anya World Traveller Book Series Interview
What Materials do you use in your Designs
The materials that I use in my pieces range from gemstones, crystals, glass, metals, seeds, wood and even recycled materials. I choose materials based on the piece I'm making and what would be best suited to do the job.
I often try to find unique materials, things I've never seen before, then I search for them online.
Most of my materials are sourced internationally, however there are a few Jamaican based crafters I have contacted in hope that they can be future suppliers to my business. I want to use more local based suppliers.
Where do you get your Inspiration From
I get my inspiration from nature, especially with the colours and the wooden materials I use.
I'm always searching for new ideas on the web too, but only for ideas never to replicate. I even get inspiration from my customers. Sometimes they come to me with ideas and we feed off each other and come up with ideas together.
The use of vegan friendly materials because I'm not for the use of animal skin or materials that involve cruelty to animals.
Although I was not formally trained I've come a long way, looking back at my earlier pieces to my more recent ones the difference is clear that I've come a long way.
What are your Favourite Pieces from the Collection
If it was left up to me I would wear them up to my elbows and knees.
Many times I have to remind myself that they are for the customers and I always create something for myself in every batch I create.
My favourite pieces to date are the vinyl bracelets as they are made from recycled old records and I love to reuse and repurposed materials.
I wear my bracelets based on mood and based on the properties they have.
I can always be caught with at least one bracelet on and I'm ALWAYS in my anklets, I never take them off, not even to shower.
Tell us about your Collaboration with Nikko FungChung, author of the Anya World Traveller Book Series
What I gained from this experience is that nothing is impossible.
Nikko came to me at a time when I was unsure about PLT's future. It made me more confident in my business and the places I could take it and vice versa.
We worked together, she told me what she was looking for and I designed them. Nikko approved the design and we went forward with the deal.
Things were very smooth and I would work with her again in a heartbeat.
Have you been involved in other Collaborations
Apart from my collaboration with Nikko, myself and some other small businesses did a collaboration for a mother's day giveaway last year.
We all put together our products and made gift baskets and we ran the promotion on our pages and selected the winners via votes.
All the contestants had to do was to tell us what makes their mom so great and why she should receive the basket filled with goodies that ranged from footwear to skincare.
The other businesses involved were Button It Ja (@buttonitja), Bella Scents (@bellscentsja), Madison Accessories and More, House of Deva Bandeau (@houseofdevabandeau), Kreamy Kurls (@kreamykurls), Fitzgerald's Boutique (@fitzgeraldsboutique) and Dwayne K Smith (@dksmithphotoz).
The experience was great as I got to make new friends and possible business partners. We cross promoted our businesses and found new customer, snot to mention we made three moms very happy.
What can we look forward to from Pretty Little Tings in the Future
I see Pretty Little Tings Ja in stores as well as being sold online on a full feature website.
I see us taking off as I continue to learn more about my customers wants as well as this market. I see PLT using local materials and I would love to create my own beads from clay, sea glass etc… I can't give away too much yet.
I would love to have a small staff at some point to help with the workload to contribute to the economy and to provide employment for others. There's still a long way to go, but I see endless possibilities.
I hope to be commissioned to do awareness pieces for example Autism, Breast Cancer etc and if not commissioned, I will definitely be including pieces of this nature.
I get tired of things easily and I don't really like a rigid routine. So I make new pieces when I feel it's time for a breath of fresh air, or whenever I experiment and I like the outcome I build on this and create new things (no pun intended).
Tena's Insider Guide to Jamaica
It wouldn't be a Sweet Jamaica exclusive interview, if I didn't get some insider tips for getting the most out of Jamaica!
So in the words of the fabulous Tena, check out how you can get round to hitting all the hot spots in Jamaica…
Favourite Jamaican Childhood Memories and Pastimes
Growing up on Chisholm Avenue I would always look forward to coming home from school and buying boiled crab whenever they were in season from an old lady down the road.
She did it the best and her boiled corn are my second favourite. I used to chew even the cob!
Why Jamaica is an Ideal Vacation Destination
People who are looking to get closer to nature, to be minimalist because when you come to Jamaica it's not very extravagant.
There's also the herbalist and the hedonist, not the people necessarily looking for sand sun and sea. They're looking to immerse themselves in a rich and diverse culture that is unique and welcoming.
It's a creative space where you can find a smooth balance of freedom and free thought.
I love Jamaica because I feel free and at ease, there's no place like home and I don't think could feel this good existing in another country. We are just different in every sense of the word. It's hard to explain, you have to live it to know.
Even though our economy is constantly changing we as Jamaicans still maintain what makes us Jamaican, even though many people try to duplicate what we have.
The authentic Jamaica will always be in Jamaica. Even though we face hardships we can still tun bad tings mek joke, we constantly find a reason to smile.
Visitors should come to Jamaica because it's beautiful, there is always something to do, they'll experience something different, it's a little bit of paradise. It will be money well spent and an experience to remember.
I'm in the States now but whenever people hear that I'm Jamaican they take immediate interest.  
Some ask questions or tell me of a time they visited, or of a time a friend or relative did and would recall their experiences from the time they got their hair braided for the first time, climbed Dunn's River Falls, taking a robot (unofficial) taxi and the list goes on.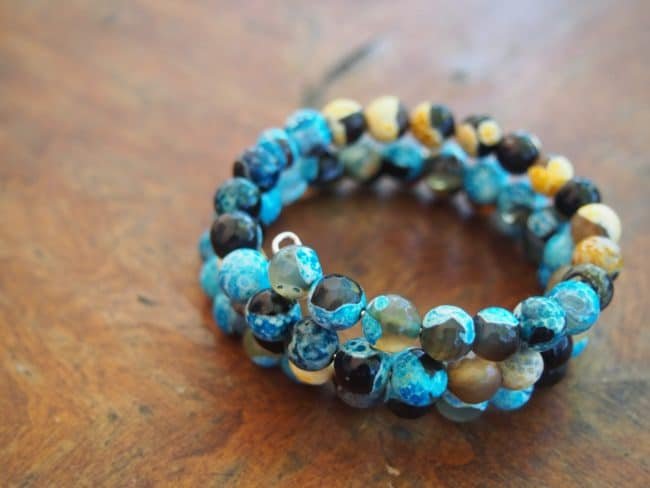 Favourite Island Hide-Aways for a Weekend in Jamaica
I've only visited twice, but Portland is just a different kind of beauty. It was breathtaking.
The journey was long from Kingston, but I didn't get an ounce of sleep because I was so taken by the beauty of the landscape. I was in awe.
I love nature and I felt at peace during that drive, the fresh air, the green landscape, the vibrant corner shops, the blue sea and waves washing the shores.
I've never been to all the parishes, but Portland is definitely at the top of my list of parishes to stay. I could even be staying in a hut, I know I would be enjoying myself.
Tena's Highlights about Living in Jamaica
I love being in Half Way Tree, the people are like characters. I can always get a laugh from the loader men shouting, "dung a town" or "3 Mile, 3 Mile".
I love the hustle and bustle. You can get anything there and I feel the same about Down Town as well. Yes both places have a bad reputation, but I do love to go to these places.
Tena's Top Five Places to Visit in Jamaica
Down Town / Coronation Market – Kingston
Half Way Tree – Kingston
Cross Roads – Kingston
St. Ann (the Parish)
Portmore/ Hellshire
Tena's Favourite Businesses – Shout Outs!
I love handmade businesses and since starting PLT my eyes have been opened to so many and I cheer them on and show my support to them all the time whether through buying their products, reposting, commenting and liking their pictures and they always return the love.
My favourite businesses that I'd like to shout out are:
(Instagram Handles)
Ngozi's Sweet Blessing (@ngozisweetblessings)
Button it Ja (@buttonitja)
Chrissy's Coils (@chrissy_coils)
Siwatu Jewelry (@siwatujewelry)
Madison's Accessories & More (@madisons.accessories)
By Monique Jones (@momopenellidesigns).
"The list goes on, big up to everyone who are #brandjamaica #handmade and #jamaicanbased."
"We affi dance a yard before we dance abroad."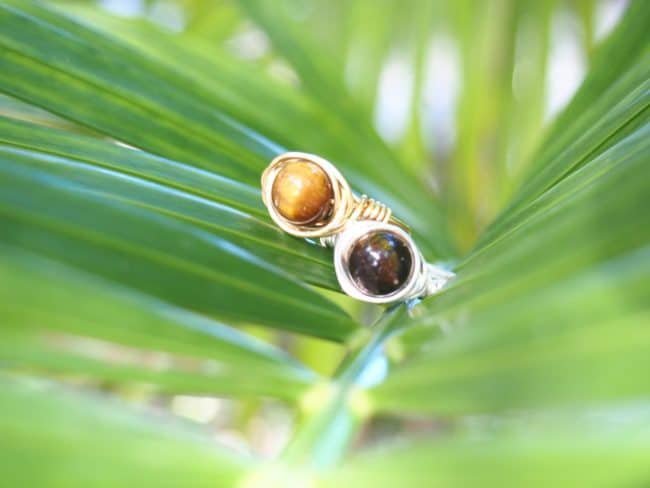 What do you love most about Jamaican Culture, Food and Customs
There is nothing better than Jamaican food. As a "bellias" by nature I love food and with the spices and seasonings Jamaicans use, everything we make is finger licking good.
My favourites include but are not limited to : Breadfruit (roast or fry), Curry Goat, Red Peas Soup, Stewed Peas, Jerk Chicken, Run Dung with boiled food, Ackee and Saltfish or with Red Herring; with fried dumplings, boiled food, rice… You name it.
My favourite traditions are Easter time for bun and cheese… Yum!
Christmas time for the extravagant meals we have and of course Independence Day.
Our culture is surrounded by food and liveliness, there is never a dull moment in our culture.
Emancipation Park and Devon House are also landmarks in Jamaica; some of my favourite places to unwind, relax and just chill at my on pace."
Pretty Little Tings – Stockists
My products can be purchased directly on my Instagram page @prettylittletingsja or on my Etsy shop Pretty Little Tings Ja.
It is currently closed, but it should be up and running by the end of February (2017), once I put together the listings. Delivery is offered, but because I am currently in the US the logistics is a bit different here.
I can send my pieces to my Jamaican customers through the mail or even better, if they have a US mailing address shipping is faster and cheaper.
When I'm in Jamaica I offer delivery through Jamaica Post via regular mail, or the oh so convenient Zip Mail. So no matter where you are I will get my pieces to you.
Customers are welcomed to contact me directly, via WhatsApp, Instagram and Etsy message. Contact me and we will work something out.
Custom work is welcomed, because I love making specific pieces and sometimes a customer might want particular colors, charms, stones, arrangements etc and I have no problem fulfilling their requests. I get inspiration from this.
I try to make my pieces as affordable as possible so the price range of my pieces are from $1,000- $4,500 (Jamaican Dollars). Price is dependent on materials, time it takes for me to complete the piece and the design.
Is there anything else you would like to share with us?
"Pretty Little Tings is run by a human, so don't be afraid to contact me."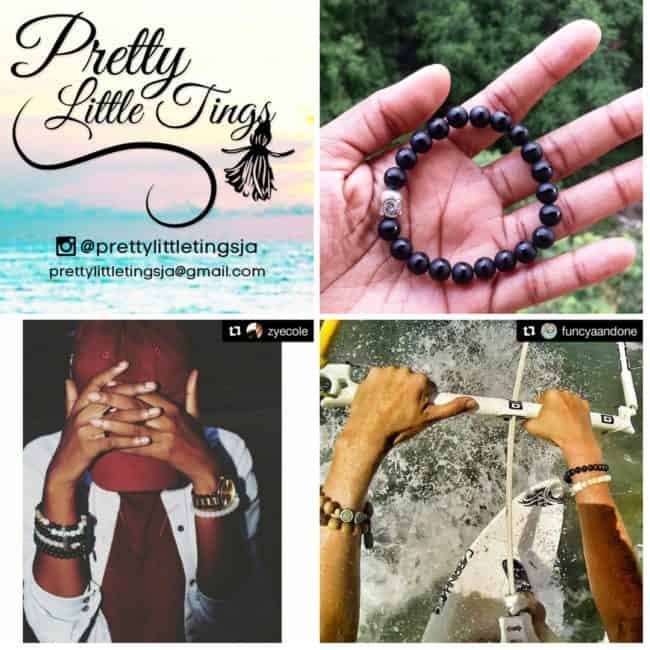 Please leave your thoughts on the 'Support Jamaica! Buy Jamaican!' campaign on the Sweet Jamaica website?
I wholeheartedly support the 'Support Jamaica! Buy Jamaican' campaign.
As a customer myself I try to seek out products I use everyday in Jamaica, which are made by Jamaicans. Rather than looking abroad first because we have a lot of talented persons here, whether certified or self-taught.
They make wonderful products and offer great service, but because some of us have 'red eye' we tend to think anything made here is not good enough.
I try to change that mindset of persons who hold this view by telling them about all the wonderful companies I've come across in my search, the numbers are astounding. And what makes them so good is that you know the source.
I'm a lover of skincare and haircare products and a lot of companies here in Jamaica make better versions of their international counterparts with ingredients that are better for you and can be pronounced.
I buy Jamaican and support Jamaicans, our brands need the money just as much as any other brand.
More persons need to get on board and be proud to wear, use and eat Jamaican products because we are supporting each other, creating jobs, providing for a family and building OUR economy.
Pretty Little Tings – Contact Details
*Contact details updated 9th February 2019.*
WhatsApp –   (+1) 876-805-0965
Instagram – @prettylittletingsja
Etsy  Shop – Pretty Little Tings Ja. 
** I couldn't get the etsy shop to load (6 feb 19), will check with Tena and amend!
Get More From Sweet Jamaica
Want to get updates on the move then follow us…
Keep the Conversation Going….
What is your favourite piece from the Pretty Little Tings Collection?
Share your experience and join the Comments Below….
Want to Read more Jamaican Interviews? Head Over Here…
Want to learn more about my Support Jamaica Buy Jamaican! Campaign? Head over here…