Painting and colouring for adults is having a bit of a moment of late. Hailed as the next 'best thing' for relaxation and freeing the mind from the weariness of life, even the most uninitiated are turning into wannabe art fiends.
You too may have felt a Picasso moment coming on whilst carefully shading in your colouring book with your new pastel coloured pencils. Which may of whet your appetite for something a little less 'colour between the lines' and a little more paint brush, easel and watercolours.
Before you start doubting yourself, I know that painting, or should I say, creating a masterpiece, isn't going to be easy for beginners. But I have an almost guaranteed way of indulging your creative side and making your first foray into painting a successful and more importantly a relaxed and fun one.
Let me introduce you to Stephanie Lue Yen, a published artist and entrepreneur, who has set up her own company ARTify! catering to budding artists in Jamaica.
Exclusive Interview with Stephanie Lue Yen
I caught up with Stephanie to the get the lowdown on ARTify, her fantastic Art Camps, Paint and Sip parties and all her other exciting business offerings. Whilst tapping her for all the things she loves to do in Jamaica and a quick flick through her 'little black book' for good measure.
If you are planning a trip to Jamaica, or already live here and fancy dabbling in some art, Stephanie will be sure to engage and entertain groups of children and adults alike with her warm and personable attitude and professional work….
 
All About SLY – a brief introduction
Stephanie Lue Yen was born in St. Andrew to a large and diverse family and was raised mainly by her mother after her father sadly passed away when she was young. Proud of the dynamics of her mixed ethnicity Stephanie absorbed Chinese, Jamaican and European cultures, forging a love of Art, languages and travelling.
Stephanie muses that her artistic streak was inherited from her mother, who was always sewing. Her natural talent was strong and she remembers being the most creative out of her friends and siblings. In her early years at High School, buoyed by her inspirational first art teacher Miss Lynch, the foundation was set for Stephanie's love of Art in all its many facets.
Edna Manley College of the Visual and Performing Arts
After graduating from High School, Stephanie prepared her portfolio studying Graphic Design and Painting at the prestigious Edna Manley College of the Visual and Performing Arts, on a part-time basis. But despite being accepted into their Bachelor of Fine Arts program, she put her true love to one side and shrewdly opted to study business, completing a Bachelor of Science in Marketing.
Most of Stephanie's adult life was spent pursuing a regular 9 to 5 office job, working for Technology and Tourism Companies, whilst pushing her Art to the lexicons of a hobby, or plan B. But there was always a nagging feeling that this wasn't her true calling and Stephanie took a philosophical approach to her future "with age comes wisdom and the appreciation of how important it is to nurture your talents and feed your soul with the things you are passionate about" and so Stephanie turned to her Art again.
"To me, my creativity is my strongest characteristic. At the core I am an artist and my goal is to build a career around my passion."     
'SLY' The Professional Artist
With little formal instruction from her early days, Stephanie honed her skills with enthusiasm, raw talent and practice. The dedication paid off.
With seven years of professional success under her belt showing and selling her work privately and through galleries such as 'Island Art and Framing' in Orchard Village Plaza, the artist known as 'SLY' is well and truly on the map. Ever the art chameleon, Stephanie Lue Yen (SLY) art is very different from what you will see at an ARTify party where the crowd participation calls for an easy to follow piece.
Not one to sit on her artistic laurels, Stephanie dreams of hosting a public exhibition after the recent successful release of her first complete collection "More Than Words".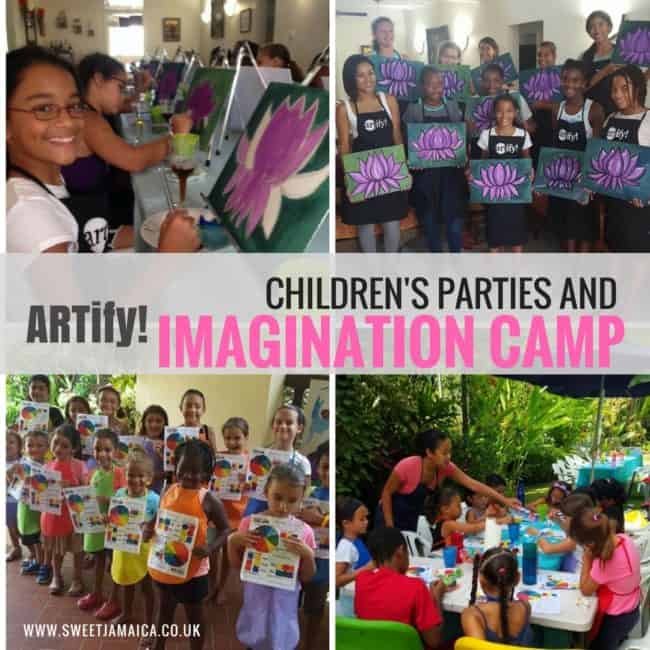 Launching ARTify!
Imagination Camp – Arts and Crafts Summer Camp for Kids
In summer 2016, Stephanie launched ARTify in Jamaica, with an Arts and Crafts Summer Camp for kids "Imagination Camp". The camp run by Stephanie and her dear friend was a success, where they spent two weeks teaching twenty children aged between 5 and 10 years old, about the elements of art and foundation techniques. The basis behind the camp was to make art fun and accessible for children so that they too would have an appreciation of the Arts…
"Our camps are small and intimate so each child gets special attention and it really is like a family for the 1-2 weeks. We pride ourselves on making quality art. In our first summer camp, kids learnt the elements of art so much that they could apply them on their own and even talk the talk. They painted on canvas and made mixed media crafts. I know it sounds serious but if you follow us on Instagram (@imaginationcamp_ja) you will see it was all fun."
The first camp was a hit with the parents, but it was the enthusiasm of the children enjoying the art so much that filled Stephanie's heart until she was spurned on to share her with others.
Paint and Sip
Bolstered by the success of the kids parties, the entrepreneur ventured into paint parties, or Paint and Sips. This was a natural progression for Stephanie as she had instructed some Paint and Sips as a guest artist in the past and had realised that people were opening up to the creative world. The special thing about an ARTify! Paint and Sip, is that you get the opportunity to get up close and personal with Stephanie herself, as she hosts all her own events.
Stephanie specialises in catering for private groups as she had noted there is already a certain chemistry when everyone knows each other and they "let it go" a bit more than a public group.  If you are interested in booking an ARTify party they can host an event at your own home or in one of their preferred venues in Kingston, such as Cannon Ball Cafe or The Haven.
"What separates us from the others offering paint parties is that you really have a lot of                                                          input into your event. You know who the artist is ( i.e. Me 🙂 ) and the host or group                                                              chooses what we paint, so it's always something that fits the tastes of the guests. As an                                                          artist I know it isn't fun to paint something that doesn't inspire you. When it is at one of                                                      our venues, we assist with organising catering and decorations and so on, if requested."
Stephanie has simplified the process of choosing a piece to paint, with a gallery of paintings on the ARTify website that clients can select from. There is a wide selection to choose from, but if you don't see something to suit your taste or occasion, you can let them know what you have in mind and they will create a unique piece based for you.
What ARTify can do for You
ARTify's main services include paint and craft parties for private groups, adults and kids. They are a great way to celebrate birthdays, bachelorette and showers, but it can be any occasion; such as, over the Christmas a couple asked them to host a Paint and Sip because they had a friend visiting. They are also fun team experiences for companies, associations and other groups. Or, just because! Art (and drinking) is always fun.
The Future of ARTify! in Stephanie's Own Words
As is the way with artistic people, Stephanie has the urge to continually keep evolving and creating…
"I didn't want to be limited. Art has no limits! I wanted to create a brand that represents the creative life, the go-to for creative experiences, creative products and services. To ARTify is to improve the environment and life through art, expand experience and enrich the world through artistic actions. We host arts and crafts camps and workshops, paint and sip and paint parties, plus we create custom pieces for events and we make Jamaican crafts. We are just getting started!
Then, there are our Jamaican crafts. The first one to launch is our UN-WINED Candle which is made using repurposed wine bottles. Repurposing or "upcycling" is very important to me. I'm always thinking of how something can be made into something else or better. I call it "future eyes". I see potential where people see junk.  We currently offer 3 Jamaican fragrances –  ortanique, coffee and pimento, we have also added citronella to the lot because mosquitoes can be a problem on the island. They are made in Jamaica by Jamaicans. We have other Jamaican-made crafts on the way.
We are open to any creative request. We've been commissioned to make backdrops and handmade signs for events. Crafting is so much fun. If you don't enjoy it, let us do it!"
 ARTify! Insider Guide to Jamaica
If you want to do Jamaica like one of it's most fabulous home-grown artists,  check this insiders guide from the gorgeous and talented Stephanie Lue Yen…
"Growing up in Kingston and St. Andrew, Jamaica, my fondest childhood memories include going to all the Craft Fairs at Christmas and seeing all the local crafts, especially pottery and jewelry. Another favourite is going to Hellshire Beach with my family for a good fried fish. I still do both things 🙂 "
ARTify! on Why Jamaica is an Ideal Vacation Destination
"One great thing about Jamaica is the diverse landscape. Foreigners just think of the beach but we are blessed with stunning beaches, and mountains, rivers and waterfalls. The landscape offers such varied experiences. It's hard for me to choose a favourite.
There are a lot of organised attractions for tourists and luxury all-inclusive hotels where you want for nothing. But there are also the real authentic Jamaican experiences, when you mingle with local people and enjoy the island the way we do. Like adventuring off the beaten path to beautiful swimming spots and trails that aren't on google maps, eating Jamaican street food and maybe stopping impromptu at a street dance. Whether you're looking to just relax in comfort or to get out there on an adventure, Jamaica has it."
Places Fixed on ARTify's Jamaican Speed Dial
The Haven on Hillcrest Avenue: a quaint outdoor bar with a friendly vibe
Cannon Ball Cafe in Barbican: when I'm not hosting a paint party there, I stop in for a cup of tea or their super yummy Power Salad.
Cellar 8 in Manor Park: great cocktails and food with a lovely ambience
Island Art and Framing: not just because my art is displayed there 🙂 It's a great gallery of local paintings and locally made wooden furniture. Your eyes will be happy. It's both a gallery and framing store so typically the persons in there are artists themselves or they appreciate art. I absorb all the positive energy!
Azans Supercenter in Regal Plaza: they sell everything there for the home and I get a lot of inspiration for decor projects
ARTify! Favourite Island Hide-aways for a Weekend in Jamaica
"In St. Ann I stay in the district called Bamboo at 'Chippenham Park' a lovely Georgian style house with neighboring egg farm. The house is over 200 years old and is really high up so it gets very cold (for a Jamaican). It's a great place to snuggle by the fire-place or gaze at the stars and leave the city stress behind. The 3 bedroom house is available for vacation rentals.
In Portland, Kanopi House is a beautiful property with several villas built mostly from wood. Kind of a tree-house, jungle vibe and its right on the Blue Lagoon.
I can't leave out Eits Cafe in the Blue Mountains! Let me just say "rustic relaxation". Rustic wooden rooms, breathtaking views, a great restaurant, and the sound of the river always in the background. Look it up!"
Artify on the 'Support Jamaica! Buy Jamaican!' campaign on the Sweet Jamaica website…
I would like to commend Jules for the "Support Jamaica! Buy Jamaican!" Campaign. I especially admire that as a foreigner she has recognized all that is positive about Jamaica and has made it her mission to help showcase that internationally. I'm a firm believer in buying local as much as we can, especially when it comes to supporting our local farming and food manufacturing industry. As a local business or artisan it is often difficult to compete with imported goods which are usually priced cheaper. But it is important not just to support our economy but to nurture the talent and morale of our people. Every time that we support a local business or artisan, that is what we are doing. We are saying, "I appreciate what you are doing, Don't stop!" – Stephanie Lue Yen
Contact and Bookings for ARTify!
If you want to get in touch with Stephanie at Artify, the best place to start is their website. All their products and services are listed and you can contact them using the contact page.
Email at steph@artifyja.com.
We are also on:
Artify! Website
Facebook as Artify Ja
Instagram @artify_ja 
Instagram @imaginationcamp_ja
Get More From Sweet Jamaica – Join Us Here…
Want to get updates on the move then join us…
Looking forward to hearing from you.
Bless up, Jules
Keep the Conversation Going….
Have you been to a Paint and Sip or art party? Tell us all about it!
Share your experience and join the Comments Below….
Want to Read more Jamaican Interviews? Head Over Here…
Want to learn more about my Support Jamaica Buy Jamaican! Campaign? Head over here…