Breakfast time never gets boring in Jamaica, as most households make a meal out of whatever is to hand on the day, so you'll always have something different on your plate. These home-cooked delicacies are accompanied by a tantalizing variety of sides such as hard dough bread, dumplings, yam, green bananas, potato, pumpkin, breadfruit, or plantain.
Despite the tropical climate in Jamaica, a hot meal is traditionally eaten at mealtimes and that includes breakfast. Jamaican breakfasts are typically hearty and filling meals that center around fish, and/or steamed vegetables, with a variety of boiled, baked, or fried accompaniments.
With all these delicious Jamaican breakfasts and breakfast drinks to try, you'll be spoilt for choice and full until lunchtime!
Typical Vegetarian Jamaican Breakfasts
A home-cooked hot breakfast is especially popular in rural areas where supermarkets are scarce, but field-grown foods are plentiful. This makes traditional Jamaican breakfasts hearty and filling and often interchangeable as a lunch or dinner option.
Whereas Jamaicans who live in the towns and cities gravitate towards quick and easy convenience foods that are readily available from grocers and supermarkets. But don't get me wrong you'll always have your die-hard fans of typical Jamaican breakfasts that head straight to the food outlets and street vendors to get their traditional hot breakfast made for them!
Some Jamaican families prefer to serve quick and easy breakfasts such as breakfast cereal, fresh fruits, or fried eggs, baked beans, and hard dough bread, which are particularly popular choices for households with younger children.
Porridge is a breakfast option that comes in a wide variety of flavors that are popular with all ages. If you don't have time to make your own it is readily available from street vendors across the island and it is served right up until lunchtime if the day is slow!
The hotels in Jamaica serve a wide variety of Jamaican and international breakfast options so you can try something different every day. You can expect to see all your favorites from home, alongside familiar and new dishes from all over the world and of course some of Jamaica's own specialties.
There are so many different traditional Jamaican breakfast options to keep you interested and satisfied, so let's get into it and see what you'd like to try first!
1. Ackee and Saltfish with Fried Dumplings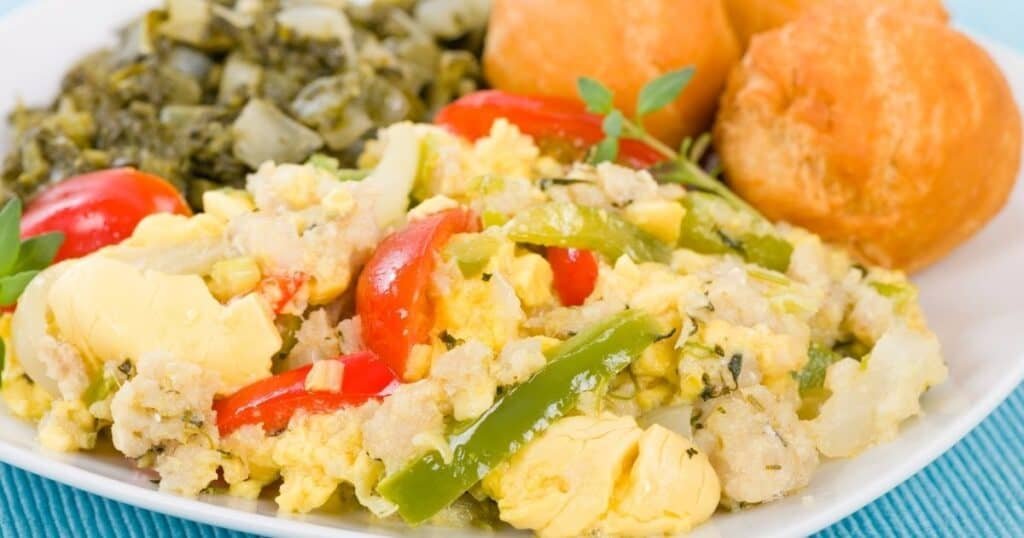 Ackee and Saltfish is proudly known as the national dish of Jamaica with good reason. The irresistible combination of flaked salted cod and creamy ackee that has been sautéed with onion, garlic, tomato, sweet pepper, scotch bonnet pepper, and thyme is quite simply delicious.
This dish is regularly served in Jamaican homes and the finest eateries and hotels across the island and can be enjoyed with a wide variety of accompaniments. Why not try ackee and saltfish with fried plantain and dumplings, roast breadfruit, boiled dumplings, and yam, or Jamaican hard dough bread.
If you'd like a Vegan version of this iconic Jamaican meal, omit the saltfish and see for yourself that it's just as moreish and delicious without it.
Ackee is actually a fruit and there are two main varieties available in Jamaica, known locally as 'butter ackee' and 'cheese ackee'. Both of which have been described as having a slightly nutty, slightly sweet taste, dependent on whether they're used in a sweet or savory dish.
Butter Ackee is pale and light in color, with a soft, creamy taste and texture, which makes it ideal for baking and desserts as it has a tendency to lose shape and mash down. Whereas 'cheese ackee' has a more pronounced yellow color with a firmer texture that has more bite to it, which is perfect for using in savory dishes or recipes where you want the ackee to remain whole.
If you visit Jamaica during the Ackee season you have to try this traditional and delicious Jamaican breakfast no matter which variety is available!
2. Jamaican Porridge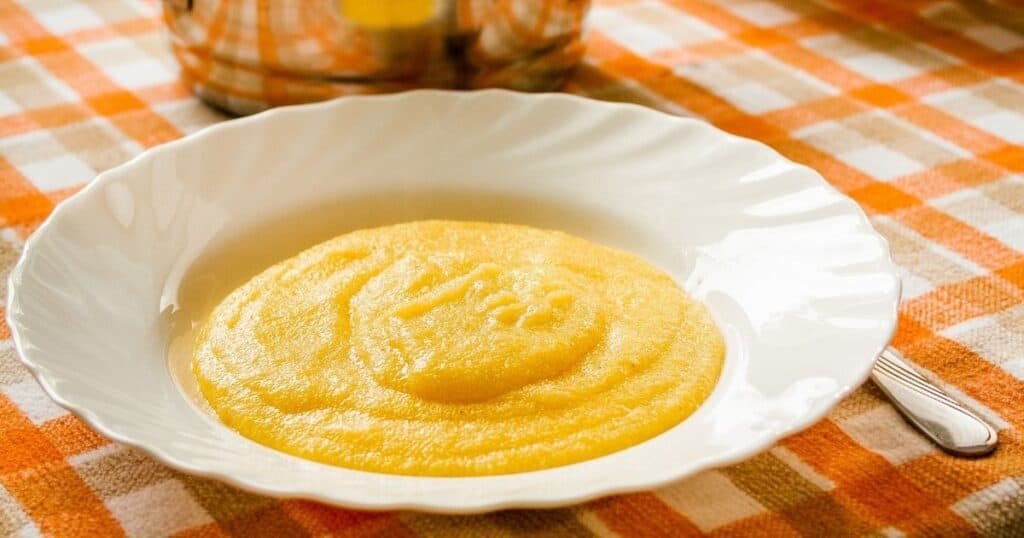 Jamaicans love to make porridge for breakfast as it comes together quickly, feeds many mouths, and is super filling and yummy. There are so many varieties of porridge that are typically eaten for breakfast in Jamaica, you could have a different flavor every day of the week and then some!
Locally grown Jamaican ingredients such as banana, plantain, peanut, and breadfruit, make unexpected but totally delicious porridge. Other firm Jamaican favorites include cornmeal, hominy corn, bulgar, rice, or oats porridge.
Jamaican Porridge is typically made by grating (banana or plantain) or adding the star ingredient to water, milk, or coconut milk. Which is simmered down with salt/sugar, vanilla, and warming spices, such as cinnamon and nutmeg, until it has come together to the perfect consistency.
Did you know, that no matter which variety of Jamaican porridge is made, it is typically served with a slice or two of bread?
3. Steamed Callaloo with Boiled Dumplings
Callaloo is a locally grown vegetable from the same family as spinach, that is packed full of iron, Vitamin A, Vitamin C, and dietary fiber. Although callaloo has larger leaves and the stems are thicker and more woody, so they are stripped of their outer skin before being chopped and steamed.
Widely available throughout the year in Jamaica, this vegetable is a kitchen garden favorite, as once sown it grows in abundance and is a cut and come again crop. To prepare this dish the Callaloo is sliced into shreds, using the whole leaf and stems. Once the onion, garlic, tomato, sweet pepper, scotch bonnet pepper, and thyme have been sauteed, the shredded Callaloo is added and steamed down for an earthy tasting, delicious meal.
If you want to boost up your steamed callaloo try adding some precooked saltfish to the dish, as it's common to add saltfish to many steamed vegetable dishes in Jamaica.
Eat steamed callaloo with fried plantain and some delicious boiled dumplings for a deliciously filling and tasty side.
4. Salt Mackerel with Pumpkin, Yam and Green Banana
Starting the day with a steaming plate of salt mackerel with boiled dumplings and ground provisions will have you ready for anything. The salt mackerel are soaked overnight before being boiled to remove the salty coating that naturally preserves it.
Next onion, garlic, tomato, sweet pepper, scotch bonnet pepper, and thyme are sauteed with the flaked mackerel to make an oily gravy with a deliciously rich flavor profile.
This delicious and filling breakfast can be enjoyed with any combination of boiled ground provisions. Jamaican favorites include boiled green banana, boiled dumplings, yam, sweet potato, Irish (white) potato, or pumpkin, which are the ideal accompaniment for mopping up the gravy.
5. Steam Cabbage with Fried Dumplings and Plantain
The humble cabbage is elevated to the culinary heights in Jamaica by slicing it into thin ribbony shreds and steaming it with onion, garlic, tomato, sweet pepper, scotch bonnet pepper, thyme, carrots, french beans, and okra. Packed full of vitamins and minerals this breakfast option is surprisingly delicious and versatile and can have saltfish added for a different flavor profile.
The best part is that Steamed Cabbage can be served with all manner of traditional Jamaican sides, such as hard dough bread, bammy, fried dumplings, Johhny cakes/festival, fried plantain, pressed green plantain, roast n fry breadfruit, or a mixture of boiled food, such as dumplings, green banana, yam, and sweet or Irish (white) potato.
6. Saltfish Fritters
Fritters are known as 'flitters' in Jamaica and can be made with any combination of sweet or savory ingredients. Saltfish fritters, aka 'Stamp and Go' are enjoyed as a breakfast option for the family and are also popular at parties as they are the perfect handheld snack.
Saltfish fritters come together by adding flour, water, baking powder, finely chopped scallion, and scotch bonnet pepper with the precooked flaked saltfish. Mix thoroughly to create a thickish batter that can be easily poured. Some people also like to add diced sweet bell pepper, for a little extra crunch and variety.
Add a spoonful of the mixture to hot oil and fry on both sides until golden. Remove from the oil and drain before enjoying this delicious grab-and-go breakfast idea.
If you want a Vegan option, you can omit the salt-fish and use sweetcorn instead for a delicious pop of flavor in every bite!
8. Steam Vegetables with Saltfish and Bammy
The combination of saltfish (codfish) and steamed vegetables is surprisingly satisfying, but serving it with freshly made Bammy takes it to the next level.
Jamaicans love to steam their veggies by shredding their greens, with onion, garlic, tomato, sweet pepper, scotch bonnet pepper, thyme, carrot, and okra. The pre-cooked shredded saltfish is stirred in for the final few minutes of cooking time. If you want a Vegan-friendly meal, omit the saltfish.
It is very labor-intensive to make Jamaican Bammy, but so worth it for the delicious crunchy on the outside, soft and fluffy on the inside texture! Bammy is made from a root vegetable called Cassava, which is peeled and grated before being tightly wrung in cheesecloth to remove all the water.
Once all the water has been removed the cassava takes on a flour-like consistency. The dried cassava is slowly and skillfully sprinkled into a hot, greased pan to form the bammy, which is browned on both sides before serving. Simply delicious!
Did you know that Bammy descended from a simple flatbread recipe invented by the Tanio / Arawak, who were the first recorded inhabitants of Jamaica?
9. Saltfish with Boiled Dumplings
This old-time favorite is especially popular with country folk and the traditionalists, who have used saltfish as a means to get fish in their diet especially when living in rural areas that are far from the coast. Saltfish is traditionally made from codfish that has been preserved with a thick crusty coating of salt, which must be soaked and boiled off to render the fish edible.
This saltfish dish comes together by sauteeing onion, garlic, tomato, sweet pepper, scotch bonnet pepper, and thyme before adding the precooked saltfish to form a rich and oily gravy.
Served with a satisfying mixture of popular Jamaican 'ground provisions', such as yam, pumpkin, sweet potato, green banana, and dumplings this hearty breakfast idea is sure to keep you full until lunchtime. Ground provisions are also locally known as 'cooked food, 'hard food', and 'boiled food' in Jamaica.
10. Banana Fritters
These crispy, fluffy, sweet, and yummy fritters are a firm family favorite and make a sweet change from their savory cousins, saltfish or corn fritters. There is no need to throw away those overripe bananas when they make the perfect ingredient for these delicious banana fritters!
Add the mashed overripe bananas to flour, water, baking powder, and cinnamon/nutmeg and mix thoroughly to create a thick batter. Carefully add a spoon full of the mixture to hot oil and fry on both sides until golden.
Remove from the oil and drain before enjoying this delicious grab-and-go breakfast idea. Or try these delicious sweet breakfast fritters with some steamed cabbage or callaloo for a surprisingly satisfying sweet and savory combination!
11. Fresh Tropical Fruits
Jamaica is blessed with an abundance of locally grown seasonal fruit that is often hand-picked straight from the garden. Enjoyed as a fresh and natural breakfast option, there are plenty of tropical fruits to choose from in Jamaica.
Depending on the time of year you visit you can enjoy mangoes, pineapple, papaya, melon, naseberry, soursop, sweetsop, oranges, grapefruit, bananas, starfruit, Otaheite apples, passionfruit, ugli fruit, guava, June plum and many more!
In supermarkets and hotels, you will also find popular imported fruits, albeit at a considerably high cost, such as grapes, kiwi fruit, raspberries, blueberries, goji berries, and apples.
12. Fried Egg and Baked Beans with Hard Dough Bread
For a fuss-free breakfast with little prep work involved, you can't go wrong with fried egg, baked beans, and hard dough bread! Quick, easy, and filling this type of breakfast option is especially loved by parents and children alike.
Tinned baked beans in tomato sauce are widely available in Jamaica, with several Jamaican brand names offering their version of this household staple. It is common to 'nice up' the baked beans with the addition of onion, garlic, sweet pepper, scotch bonnet pepper, and thyme, which quite frankly are added to almost every Jamaican savory dish!
Fried ripe plantain adds the ultimate sweet accompaniment to this simple and tasty meal which comes together quickly and fills you up.
Hard Dough bread is a traditional Jamaican loaf bread that has a dense structure but is surprisingly soft and springy with a slightly sweet flavor. This delicious bread is sold islandwide and is available in sliced and unsliced, white, and wholewheat varieties.
13. Smoothies and Natural Juices
With an abundance of fruits and vegetables readily available in Jamaica, a smoothie or natural juice is becoming a popular choice for those who prefer a lighter, healthier, and more portable breakfast option.
Many Jamaicans have access to seasonal fruits and coconuts growing in their gardens, making natural juices very popular in Jamaica. Jamaican natural juices and smoothies are made by blending or juicing whatever fruits are in season and readily available, with water, coconut water, or sugarcane juice, finished with a splash of lime and ginger to give it that extra flavor zing!
While exploring Jamaica you'll find there are lots of natural and exciting food outlets opening up, which offer natural juices and smoothies alongside international favorites, such as acai bowls and bubble tea.
14. Red Herring with Hard Food
Red Herring is similar to salt mackerel and equally delicious with boiled dumplings and ground provisions. The Red Herring is either smoked or tinned and therefore doesn't need to be soaked or boiled to remove the salty coating, which makes it a much faster dish to prepare.
Most Jamaican dishes start with sauteeing their favorite seasonings, onion, garlic, tomato, sweet pepper, scotch bonnet pepper, and thyme. The flaked herring is added once the veggies have softened to make an oily gravy with a deliciously rich flavor profile.
This delicious and filling breakfast can also be enjoyed with any combination of boiled ground provisions aka 'Hard Food'. Jamaican favorites include boiled green banana, boiled dumplings, yam, sweet potato, Irish (white) potato, or pumpkin, or why not try it with some fried dumplings.
15. Tinned Mackerel in Tomato Sauce with Festival
This popular Jamaican breakfast ingredient, known locally as 'dutty gal' is a readily available and economical choice for a quick, easy, and filling meal. The tinned varieties of mackerel are pre-prepared in a tomato sauce, that is added to sauteed seasonings like onion, garlic, tomato, sweet pepper, scotch bonnet pepper, and thyme.
Seasoned tinned mackerel can be eaten with anything that's available! So expect to see it shared with hard dough bread, Jamaican breakfast dumplings – whether that be fried, boiled, festival / Johnny cakes or fritters, fried breadfruit, plantain, or even leftover rice from last night's dinner!
Festival is the sweet cousin of regular Jamaican fried dumplings. With a little sugar, vanilla essence and spice added they are delicious with their crispy outside and soft and bouncy center. Festivals are often shaped like little sausages or knots which are super fun to pull apart and nibble on!
15 Delicious Jamaican Breakfast Drinks
Now you have your Jamaican breakfast options sorted, you'll need some Jamaican breakfast drinks to wash it all down with!
Popular Jamaican breakfast drinks include the world-famous, Blue Mountain Coffee, hand-made Chocolate Tea (hot chocolate), all manner of herbal 'Bush' tea infusions (which have different healing properties), and cold and refreshing drinks made from tropical fruits.
Blue Mountain Coffee (premium quality)
Instant Coffee, lower grade Jamaican coffee, often blended with imported varieties of coffee
Chocolate Tea (hot chocolate), made from hand-rolled chocolate balls
Red Rose Tea, made from imported tea leaves
Ovaltine, Milo, and Horlicks, imported hot flavored drinks
Cerasse Tea, bitter herbal tea renowned for reducing blood pressure, treating worms and parasites, lowering cholesterol, cleansing the blood, and more
Mint Tea, refreshing herbal tea renowned for its digestive qualities
Ginger Tea, fiery herbal tea renowned for reducing nausea and aiding digestion
Soursop Leaf Tea, herbal tea renowned for digestion, blood pressure, inflammation, and calming nerves
Basil Tea, herbal tea renowned for aiding flu and cold symptoms by opening airways and improving breathing
Mango Leaf Tea, herbal tea renowned for strengthening your immune system, gut health, and diabetes
Coconut Water, known locally to 'wash of your heart' this super refreshing drink is loaded with vitamins and minerals
Sugarcane Juice, despite the huge amount of sugarcane grown locally this surprisingly healthy drink, is not as widely available as coconut water as you need a special press to get the juice from the sugarcane
Natural Fruit Juice
Smoothies
Did you know that hot beverages are collectively known as 'tea' in Jamaica? So don't be surprised if you are offered 'Coffee Tea' (coffee), or Fish Tea (fish soup) in some locations!