A Guide to Clearing a Barrel at Kingston Wharves Jamaica
*This Post was previously called The Art of Packing a Barrel Part Two… and has been fully updated on 13th February 2019 to reflect the changes at the Kingston Wharf*
The thought of clearing a barrel (or any other cargo / unaccompanied baggage) at Kingston Wharves in Jamaica, fills most people with a combination of dread and excitement. Mainly because other people have told you that 'so and so's' experience at the wharf was not a good one.
But I beg to differ.
I don't know if it was because I listened to all the complaints and stories of misery at the wharf and expected the worst. That the actual experience was nowhere near as bad as what I had anticipated. And dare I say it, it was actually a pleasant one, all things considered!
You may be sitting there now thinking 'Really? It was a pleasant experience clearing a barrel at the wharf?!'
Let's put this into perspective. I'm not saying it was as pleasant as spending time doing exciting things with loved ones, or getting an unexpected windfall. But, it's definitely better than having a tooth filled, or getting up on a Monday morning to go to work!
Not to get all up in my feelings, but….. I personally think in life we can choose to complain about everything, or we can take the situation at face value. Clearing a barrel, or any other type of cargo at the wharf, is a tedious process and one that involves exercising some patience to get through the steps required to get the reward at the end (your belongings!).
So just take it easy. Remember it's not going to take more than a few hours of your life!
Expect to have to wait for your turn and bring something to occupy yourself whilst you are waiting if you are impatient, or get bored easily. Like some reading material or a phone (app), if you don't want to watch whatever is showing on the TV in the waiting room.
You could even strike up a conversation with someone ~ Everyone at the wharf is going through the same thing as you and they are probably just as bored as you are!!
This is a two-part post on Shipping to Jamaica
Part One includes advice and tips on everything that happens prior to the barrel leaving the Senders address. If you missed that boat, you can learn HOW to go about shipping a barrel / cargo to Jamaica, by reading the post 'A Guide to Shipping a Barrel to Jamaica'
Part Two (this post) covers what happens once the barrel has arrived in the destination port of entry and requires clearing and transportation to the Receivers address.
Reflecting on The Old Kingston Wharf
This post was originally written in 2012, when things were very different at the Kingston Wharf in Jamaica.
Long gone are the days of walking miles around the busy wharf complex, traversing from building to building to get reams of paperwork stamped.
Before risking your life walking across the busy thoroughfare, dodging huge wharf vehicles (that move entire 40ft containers) to reach the berth number where your barrels were stored. Phew!
Long gone are other things too. On re-reading the original post I have noticed a couple of other differences in the last 7 years. Although the standard rate for clearing a mixed barrel of food, toiletries and personal items, is around the same; at a rate of JA$6,500.
The cost of getting the wharf has risen considerably. On my first trip I paid JA$9,000 (including gas / petrol) to get from Ocho Rios to Kingston Wharf, and back again. In 2019, I can expect to be charged between JA$18,000 to JA$20,000 for the same journey!
Kingston Wharf Today
The Kingston Wharf of 2019 is in a brand new building, which houses the entire process of clearing a barrel under one roof. It's clean, modern and streamlined. With air conditioned waiting rooms, flat screen TV's, iced water dispensers, vending machines and clean toilets!
Once you are inside the building, you don't have to go anywhere else, until you receive your gate pass and have to go outside to get your vehicle / driver.
*In short, it's a revelation.
Disclaimer! *There are still (organised) long lines of people eager to clear their barrels and other cargo though!
In keeping with this new streamlined adventure in clearing barrels this post has been completely updated for 2019 to reflect the NEW process for clearing cargo at Kingston Wharves in Jamaica!
But, just for fun and reference purposes, I have left the original post (written in 2012) reliving my FIRST ever trip to the wharf in Kingston to clear my barrels, underneath this new updated information…
6 Easy Steps to Clear Barrels / Cargo at Kingston Wharves in Jamaica…
If you want to ship cargo to Jamaica, there are six easy steps to clearing the articles at Kingston wharf.
STEP 1: COLLECT YOUR DOCUMENTS
Collect your Order or Bill of Lading from your shipping agent, freight forwarder or customs broker.
STEP 2:            GO TO THE KINGPORT BUILDING OR KINGPORT WAREHOUSE COMPLEX WITH DOCUMENTS AND PAY CHARGES
Take these documents (your Order or Bill of Lading) along with valid identification and TRN to the Kingston Wharves Head Office at the Kingport Building (Third Street – Newport West) or the Kingport Warehouse Complex – KWC (47 Second Street – Newport West) to pay the handling and storage charges due. You will receive a customer service number.
If your cargo is located at our Berth 5 or Berth 6 Warehouses, KWL charges are to be paid at the Kingport Building; charges for cargo located at the Kingport Warehouse Complex can be paid upon arrival to KWC.
Any ONE of the following forms of identification is acceptable – National ID; Drivers' License or Passport.) Please be reminded that there will be a security check at the entrance.
STEP 3: PROCEED TO CUSTOMS MANIFEST
Take all of your documents to the Customs Manifest office for documents check and processing. At this point the Customs Officer will match your documents against the information submitted to Jamaica Customs. Your documents will then be validated with a Customs Stamp, if everything is in order.
If you have a major amendment that cannot be handled by the Customs Officer or KWL Warehouse Supervisor, you will directed by the Customs Officer regarding further assistance. Once completed, please return to the KWL Customer Service Desk with the amended documents.
STEP 4: GO TO WAREHOUSE
There are three (3) possible warehouse locations where your cargo can be stored: KWC, Berth 5 or Berth 6. The specific location of your item/s should be printed on your documents. Go to the identified warehouse with your validated documents. Your documents will be reviewed.
Listen for your customer service number and directions to the Customs Inspection Area.
STEP 5: CUSTOMS INSPECTION AND PAYMENT OF DUTY
A Customs Officer will inspect your items. You will be told how much duty is to be paid and directed to a Customs Cashier. Please remember to collect the Customs Release from the Customs Cashier.
STEP 6: COLLECT GATE PASS, COLLECT CARGO AND EXIT
You must collect a gate pass at the Gate Pass Office in order for your transportation to gain access through the Main Gate. Present your documents to the Security Officer for inspection at the Warehouse where your barrel is located and sign to acknowledge receipt of goods. Collect your barrel and head to the exit gate with your transportation. You are all done!
PLEASE NOTE! Barrels and other cargo is seen in the scanner at the port. So keep it legal people!
TOP TIP! If you are struggling to find your way around the wharf, ask one of the security guards where to go next!
Additional Information on Clearing Cargo in Jamaica
If you requested an unaccompanied baggage clearance declaration (C27/Yellow form) form at the airport, this is now computerised and you will NOT be given a paper copy. When you get to the wharf, join the line for 'the yellow form' and the remaining allowance will automatically be deducted.
Remember to bring your passport and Tax Payer Registration Number (TRN) card to the wharf.
Barrels containing 'personal effects' (e.g. food, clothes, toiletries, basic household items) or 'non-commercial' items attract a minimum charge of JMD$6,500.00 per barrel.
If you are clearing cargo on behalf of a consignee, you must present a letter of authorisation, signed and stamped by a Justice of the Peace (JP). The consignee's TRN card and valid passport must be presented to the Customs Official (photocopied documents must also be signed and stamped by a JP).
How much does it cost to clear a barrel in Jamaica?
There is no definitive answer to this question as it depends on the contents of the barrel you are clearing.
But, to give you an example…
In December 2018 I cleared one barrel at Kingston Wharf, which contained a mixture of household items, food and toiletries.
I had to pay the following fees to clear my barrel at Kingston Wharf:
Landing Fees ~ paid to my Shipping Agent: JA$3,700.00
Handling and Storage Fees ~ paid to Kingston Wharf: JA$4,630.00
Import fees, customs duties etc ~ paid to Kingston Wharf: JA$6,500.00
Kingston Wharves Online Services
The new spangly Kingston Wharf also boasts an updated online offering too. With a new website and app that allows you to carry out some of the processes to clearing cargo online.
The Kingston Wharves App, can be downloaded on Google Play Store.
The Kingston Wharves App enables you to check your shipments and pay some of the fees prior to your arrival at the wharf ~ But it does NOT include the ability to pay customs charges; as they won't be known until your barrel has been opened and checked by Customs Officials.
Kingston Wharves Contact Details and Opening Hours
Customer Service Contact Details:
Mondays – Fridays | 8:00am – 4:00pm
Telephone: +876 923 9211
Fax: +876 923 5361
Email: customer.services@kwljm.com
24 Hour Contact:
Telephone: +876 937 9683 / +876 937 9689 / +876 536 5298
Fax: +876 757 5448
Email: kwlplanning@kwljm.com
Kingston Wharves Opening Hours
Terminal – 24 Hrs
Warehouse: Mon – Fri 8:00am – 4:00pm
Office: Mon – Fri 8:00am – 4:00pm
My First Experience of Clearing a Barrel in Jamaica
Circa. August 2012
Let's Rewind….
Intro: At the top of this post, I mentioned that I have updated the content of the post to reflect the new process of clearing barrels in Jamaica in 2019.
But, I promised to leave my original post that relived my first experience of shipping a barrel to Jamaica. This was back in August 2012…
After much anticipation my barrels have arrived at Kingston Wharf and I cannot wait to see them again.
I decided to get the barrels shipped to Kingston rather than Montego Bay and collect them myself. As not only was it cheaper, more critically it was faster. Shaving off at least an extra 10 days waiting time for the ship to offload at Kingston and then make its way to Montego Bay for its last unloading.
As I was desperate to get my things as soon as possible and I was staying half way between the two ports I decided it made sense and was just as easy to go to Kingston as Montego Bay to retrieve my much wanted belongings that I had bid farewell to in London on 17th August 2012.
Travelling to Kingston Wharf
The paperwork that I received from Kingsley's Shipping (in the UK) had an expected date of arrival printed on it as 24th September 2012. With instructions to telephone the office if I had not heard from them by that date.
So I was surprised to get a call from Kingsley's Shipping, Kingston Office, on the 21st September advising me that the barrels were ready for collection.
The staff were very friendly and polite and gave me the address to come to in Kingston to collect the 'Bill of Lading' paperwork for clearing the barrels at the wharf.
I chartered a lovely, experienced driver 'Fenton' and his mini bus for $9,000 (including Gas) through a recommendation from a friend, to pick me up and drive me to Kingston Wharf and return back to my home with the 3 barrels.
Fenton arrived as requested at 5.00am before 'the Cock(erel) had taken off his draws!', as my good friend would have said. And we set out in the early morning darkness for Kingston.
With me clutching my personal identification, TRN Card, the paperwork from Kingsley's Shipping, my C27 Form, aka the Yellow Form, from the airport and receipts for the majority of the items I had shipped in the barrels, as proof of the cost I had paid for them in the UK.
We headed through Ocho Rios and travelled east towards St.Mary, which was a more scenic and traffic free route instead of the more familiar journey through Fern Gully and Flat Bridge.
Swiftly driving along the deserted A3 Highway we quickly reached Ian Fleming International Airport (formerly Boscobel Aerodrome) and continued eastward towards to Orcabessa.
Turning off the Highway and heading through the interior of the country as the sun was coming up, the beauty of Jamaica was revealed in the lush green canopies of trees and the numerous hills, gulleys and riversides we passed on the journey.
Our route passed Stoney Hill on the outskirts of Kingston which had a lushly covered hillside which looked serene and magnificent against the dense forest trees that covered most of the other peaks.
Reaching the Shipping Agents Office
We reached Kingston and made our way to Kingsley's Shipping Offices at Shop 13B, 14-16 First Street, Newport West, just before 8.00am. Where I found they were open and welcoming despite it being before the listed opening hours of 8.30am.
The staff were very friendly and professional and unusually for Jamaica they worked quickly and efficiently in getting your paperwork ready for you.
I handed over my paperwork from their UK offices, ID, TRN Card and my C15 Form and they gave me the 'Bill of Lading' which is an essential piece of paperwork to carry to the wharf.
The office was clean and had a free iced water dispenser and chairs for you to rest in whilst they dealt with the paperwork.
There was a $5,400.00 fee to pay Kingsley's Shipping for landing fees for the 3 barrels. Within about 15 minutes I was handed a small piece of card with instructions of what to do next and was directed to the Wharf.
Arrival at Kingston Wharf
Back in the mini-bus Fenton drove us round to the Kingston Wharf's main gate and paid a fee to one of the unofficial car park attendants to park up outside the compound where vendors sold drinks and patties.
Only one person (whose name is on the paperwork) was allowed to enter the compound in order to process the shipment. After showing my 'Bill of Lading' paperwork and ID to the friendly, but officious guard I was directed to Kingsport Building which was clean and air-conditioned to the point of wanting to wear a sweater.
Waiting in the line of people to reach one of the cashiers I noticed that I was the only white person in the building and I was drawing some friendly attention!
I waited no more than 10 minutes before reaching the front desk and had a $2,060.00 bill to pay to the wharf for Handling Charges for the 3 barrels.
I noticed the receipt had recorded that the ship had arrived at the wharf on the 18th September and that I would have been liable for paying Storage Fees had the barrels not been collected by the 29th September.
Join the Line at the Wharf
After leaving the Kingsport Building you are directed to the Manifest Building which is a short walk away. Anyone who has managed to accompany you thus far is instructed by a security officer, to wait on long wooden benches.
Only the person named on the paperwork is able to move on through the wharf. After showing your paperwork and receipt for the Wharf's Handling Charges and are guided through a guarded carousel gateway.
Before you reach the Manifest Building entrance you pass some public toilets on your right-hand side which are cavernous and a little foreboding to enter on your own, but they were clean.
Once in the Manifest Building you join the commercial or personal shipping line. Then show your paperwork to the Customs Officers, where they check your paperwork against their records and tell you the Berth where your goods are being stored.
There is a small shop in the Manifest Building right by the entrance that sells hot and cold drinks, bagged snacks, delicious patties, bun and cheese and so on, you may find the sustenance welcoming (or at the very least a cold drink) as you may have a long wait to clear your goods.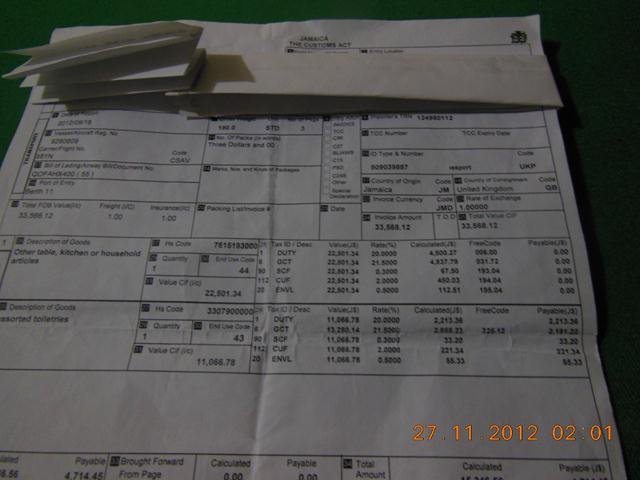 Finding the Warehouse Berth Number
Once out of the Manifest Building you show your paperwork to another security officer to pass through a guarded carousel gateway. Where they direct you deeper into the belly of the wharf to the Berth Number that holds your goods (which is printed on the document).
The woman guard here was especially friendly and was the first many at the wharf to ask if I could carry her back to London with me!
Crossing the busy wharf road and turning right I was amazed at the size of the vehicles that were traversing the roadways and that were capable of carrying and driving with a huge container in its pincer like arms.
The walkway on the other side is at a raised level from the roadway, which not only means persons can safely walk away from the formidable road traffic, but it also makes it easier for loading of goods into vehicles.
Once you reach the Berth Number you hand your documents to the guard sitting behind a locked gate and wait outside on long wooden benches for your name to be called once the porters have located your barrels.
This is where the goodies bought in the little shop in the Manifest Building come in handy…. By the time I reached this point it was coming up to 9.00am and there were only about 5 other people waiting before me.
A woman who was waiting was commenting that she was returning back to the States tomorrow and had been in Jamaica for six weeks. She had sent two barrels and when she came to collect them only one of them could be found. Which contained clothes and gifts, the other one containing foodstuffs could not be found.
After much confusion at the wharf she was instructed to go home and wait to be contacted when the other barrel was located. Needless to say the wharf called her two days before she was leaving the island to come and collect the other barrel as it had now been found. But she was annoyed that she had to buy foodstuffs whilst on the island despite spending the time and effort to ship them.
It took about 15 minutes for my name to be called, where I was ushered through the gate and directed to a table where my 3 barrels were all lined up.
I have to admit I was relieved to see all three barrels and was encouraged to see that they had managed to get all the way from London intact.
The friendly and charming Customs Officials called over a wisely (but strong and fit) porter and he unfastened the lock that Kingsley's Shipping had put on back in London with a huge pair of pliers.
The same porter 'helped' to unpack the barrels by taking out about half the items in two of the barrels and just the 'top layer' of the last barrel setting them out on the long stainless steel table.
The Customs Officers quickly looked over the items already laid out and asked me to continue to empty the barrels; once I had nearly emptied the first two barrels they came back over.
I was asked to open a large plastic container that I had stored dishes and glasses in and had to pull out a large box containing a portable pool, for closer inspection.
Generally anything in a box or carton was of interest to them and when they spied a saucepan handle (pot handle), they verbally noted that I had a pot set.
They also asked about the bottle of Hennessey and Champagne that I had listed on the C27 form. But when I pulled out the bubble wrapped bottles they didn't seem overly interested, as I assured them there was only one of each. I showed them the receipt for the portable pool and they noted the cost.
None of the barrels were completely emptied, although they did look inside all three barrels.
Unfortunately, I had a few casualties. As one cup handle broke off and the two champagne glasses I had sent had both broken despite packing them in bubble wrap, but at least they went together!
Customs Taxes, Charges and Levies
Once the Customs officials were satisfied I was instructed to re-pack my barrels. A very good-looking strapping porter came over and helped me to re-pack them. Which ended up with me standing on top of the barrels in order to fit the covers back on, much to the pleasure of everyone at the wharf!
Once you have repacked your barrel, you head to the Berth Office. To hand in your paperwork to the Customs Cashiers, with the Customs Officers notes scribbled on it. These cashiers look up the items on the internet to check the value of the goods.
As my TRN number was not on the system I had to go upstairs to the Supervisors Office where I was again dealt with by friendly and efficient staff.
Back downstairs, it took about 20 minutes to be handed back my paperwork which held the magic number on it… the amount of tax payable to clear my barrels.
I searched the document with bated breath and was super relieved to see that I only had to pay $6,014.45 for all 3 barrels which was much less than the advised $18,000 ($6,000 per barrel) I was told in the UK.
Please be aware the C27 Form, aka the 'Yellow Form' was effective in lowering the amount of tax payable. Therefore if you ship and do not have the Form or ship to someone else, you may be liable for higher tax.
Pay Your Customs Fees
Take the Customs Import Entry Form (C78X) to the Payments Office. Which is at the end of the walkway, near to where you cross the wharf road.
Make your payment and get a receipt for your Tax Payment. Keep this safe!
Wharf Gate Pass
Take the Receipt to the Gate Pass Office, which is back up near where the barrels are located and hand in your paperwork to get a Gate Pass. This will enable your driver and vehicle to enter the wharf and load your goods.
Walk back outside the way you came in. Through the Main Entrance showing your paperwork at all the guarded gateways and find your driver.
You are now free to approach the main vehicle entrance to the wharf, where again your ever-growing amount of documents are checked along with the driving licence of the driver.
Drive Slowly (there is a 5mph speed restriction) to the berth where the barrels were checked and park up near to the loading bays.
Show your paperwork to the guards, who stamp it and instruct a porter to bring the barrels to your vehicle. The wisely porter came back and loaded the barrels into the mini-bus and as I anticipated asked if I had anything for him and I slipped him a note.
Once the barrels were loaded we approached the main entrance and the Customs officials checked how many items we had in the vehicle against the documents.
Then they checked the driving licence and kept all the paperwork except the receipts.
We were finally clear to leave the wharf compound and head back home to unpack the barrels. By just after 10.00am we had left the wharf and eagerly stopped at a patty shop before driving back home.
Once we got out of the hustle and bustle of Kingston we stopped and got a cold beer at one of the bars near to Stony Hill, before reaching back home near Ochi (Ocho Rios) by lunch time.
In Conclusion
What I Really Thought About Clearing a Barrel at Kingston Wharf Jamaica
Following numerous horror stories about collecting goods from the wharf I was filled with anticipation about how long it was going to take and what the experience was going to be like collecting the barrels myself.
In reflection, I have to say I was pleasantly surprised and it was nowhere near as tiresome as everyone had told me. When I mentioned this to friends they retorted that Christmas and Easter were a different matter… LOL!
Arriving at the wharf early was key to my success in this operation as it meant I beat the queues. Try it yourself and you will be glad you did.
Everyone at the wharf was professional, but polite, friendly and (mostly) happy and were intrigued by my presence there.
I would advise that you bring proof of purchase in the form of receipts to show to the customs officers, so that they can value your goods correctly.
The best tactic in these circumstances is to be friendly and co-operative and that also means being patient when necessary… if you get ignorant with the Customs Officers you may find they get ignorant with you!
I highly recommend Kingsley's Shipping service from London to Kingston and would not hesitate to use their services again as they were not only super professional and friendly, they were also careful with my goods.
Further Information About Shipping to Jamaica
We have plenty of guides about shipping a barrel or crate, or anything else for that matter.
Check out our other posts to read the whole series on Shipping to Jamaica
Sweet Jamaica Guides to Shipping
Want to know what a barrel is all about and where to get one?
Read A Guide to Barrels and Drums – Shipping Basics
Want to learn the best contents for packing in a Barrel?
Read How to Pack a Barrel for Shipping to Jamaica
Want to learn the process involved in shipping in the senders country?
Read A Guide to Shipping a Barrel to Jamaica
Want some additional information on Shipping to Jamaica?
Read Sending a Barrel or Crate to Jamaica
Want Shipping and Logistics Solutions?
Our sister company offers assistance to returning residents, expats and anyone else that wants to Live in Jamaica, Ship to Jamaica and more!

Get More From Sweet Jamaica
Keep the Conversation Going….
Have you shipped a barrel to Jamaica, share your experience? Join the Comments Below….